Although the newer forms of retail have higher discounting rate, the fact that they still continue to expand keeps businesses from coming back to them, according to the general manager of an instant noodles manufacturer.
Current modern retailing sales in ASEAN countries, namely the Philippines, Thailand, Malaysia and Singapore account for 33%, 34%, 60%, and 90% respectively. Vietnam has a population of nearly 94 million, of which people aged 18 to 50 accounts for 60%, a potential goldmine for modern retailing.
In HCMC's Trade Development Plan up to 2025, there are plans for modern retailing distribution to reach at least 40% by 2020, 50% by 2025 and 60% by 2030.
In contrast to policymaking bodies' vision, consumer and food manufacturers acknowledges the role of traditional markets and grocery stores. These two platforms still attract consumers thanks to direct product showcasing and generally lower costs than those in supermarkets.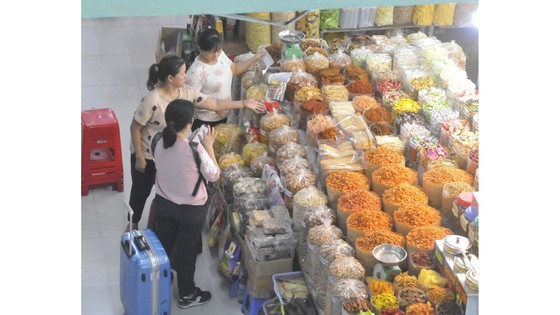 Busy tradings at An Dong traditional market. (Photo: SGGP)
Saigon Food is one notable company that achieved success exploiting traditional distribution platforms, having more than 5,000 traditional outlets as the company's financial backbone.
Before 2003, Ba Huan Co., Ltd. had a reputation as one of the largest egg wholesalers in HCMC. When the avian flu epidemic broke out, the company realized the need for food safety standards and went into retail. Mrs. Pham Thi Huan, Director of the company, believed their diverse outlets and independence from supermarkets increased sales rapidly and created advantages in production and business plans.