Viet Nam has yet to have a brand which is well-known in the world or even in the region. In order to develop brands on the international market, the government has designated April 20 "Vietnam Trademark Day" to raise awareness concerning the development of trademarks.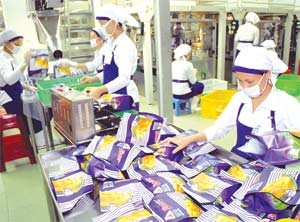 Checking packets of dried fruit at the Vinamit factory
Viet Nam's agricultural products, including cashew, coffee, rice and pepper, have been traded heavily in the global market. Vinamit-brand dried fruit is favored over that from China and Thailand.
 
Unfortunately, there is no Vietnamese brand listed among Asia's Top 1,000 Brands.
 
Many Vietnamese products are exported to neighboring countries. They are then assembled into high-quality products and sold at much higher prices.
 
Vietnamese coffee tops the trading list on the world market, but it also represents 80 percent of total volume of coffee returned to exporters due to poor quality.
 
The Trade Promotion Department of the Ministry of Industry and Trade has developed the National Trademark Program to encourage companies to develop their trademarks in both local and foreign markets.
 
Selected trademarks will have a logo with English subtitle "Vietnam Value Inside." The government will protect companies with selected trademarks, and create the best possible conditions for them to promote their trademarks and trade activities abroad.
The selection of Vietnam Trademark Day and the National Trademark Program shows the government's determination to develop Viet Nam's trademarks.
Addressing the ceremony and announcing which trademarks are outstanding on April 17, Deputy Prime Minister Nguyen Thien Nhan said the Politburo and relevant agencies should take measures to provide information, training, and marketing assistance to help the 30 selected enterprises improve the quality of their products, boost trade promotion and secure a better position in both local and foreign markets.
 
Successfully developing the 30 trademarks will contribute to building up the Vietnam Trademark and winning the trust of customers around the world, he added.
Allowing enterprises to pin the Vietnam National Trademark logo on their products is an honor for each enterprise. However, this will pose a great challenge for enterprises as the quality and prestige of these trademarks is not only of concern to the enterprises themselves, but also to the nation.
 
Therefore, it is important for Viet Nam's business community to do its best to increase the number of products with the Vietnam National Trademark. Viet Nam's trademarks must keep up with the trademarks of other nations.