The Ministry of Trade (MoT) recently proposed the government to withdraw A83 standard gasoline from the market and reverse some standards of petrol due to difficulties in implementation.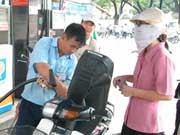 At a filling station

The other two types of gasoline, A92 and A95, are still allowed to be sold.

Earlier, the Prime Minister decided that unleaded petrol and diesel oil imported into Viet Nam have to meet new technical standards.

However, MoT said the application of such standards would cause some difficulties for Vietnamese petrol companies in finding foreign suppliers.

Concerning the regulation that only two types of diesel oil with the sulphur contents of 2,500 mg/kg and 500 mg/kg are allowed to be imported, MoT prefers the former one.