The country was estimated to face a trade deficit of 150 million USD in March, lifting the total figure in the first quarter to 250.9 million USD, the General Statistics Office (GSO) reported.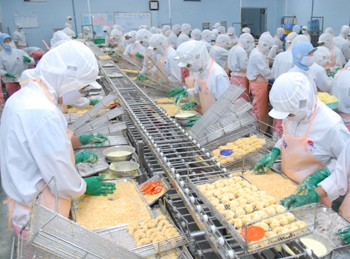 Workers process shrimp for export at a factory of Hai Thanh Company in Hiep Phuoc Industrial Zone, Ho Chi Minh City. (Photo: Cao Thang)
The trade deficit in the first three months was equal to 1.02 percent of the country's export revenue in the period.
The GSO revealed that with March's export turnover of 9.15 billion USD, the country's total export value in the first quarter increased 23.6 percent over the same period last year to 24.5 billion USD.
Excluding crude oil, garments and textiles as well as seafood and coffee remained the country's key export staples in the January-March period. Textiles and garments made up 3.23 billion USD of the nation's total export earnings, up 15.4 percent over the same period last year. The export value of seafood also surged 11.7 percent to 1.26 billion USD. Despite a decrease of 11.8 percent, coffee exports still earned 1.06 billion USD.
The country, meanwhile, spent 9.3 billion USD for imports in March, up 8.1 percent over the previous month. March's result raised the first quarter's import value to 24.77 billion USD, up 6.9 percent year-on-year.
Main imported products in the period included petroleum products at 2.02 billion USD, down 19.7 percent on year; clothes at 1.3 billion USD, down 11.1 per cent; plastics at 1.09 billion USD, up 0.1 percent; iron and steel at 1.45 billion USD, up 7.7 percent; and electronic products-computers-spare parts at 2.66 billion USD, up 103.4 percent.
The country targets to keep its trade deficit at roughly 13 billion USD this year, or at 12 percent of total export revenue. The nation's trade deficit last year stood at 9.5 billion USD.