Vietnamese farmers are ecstatic at the news that the Southern Food Corporation, Vietnam's biggest rice exporter, has signed an agreement to export 300,000 tons of processed fifteen-percent broken rice to Indonesia.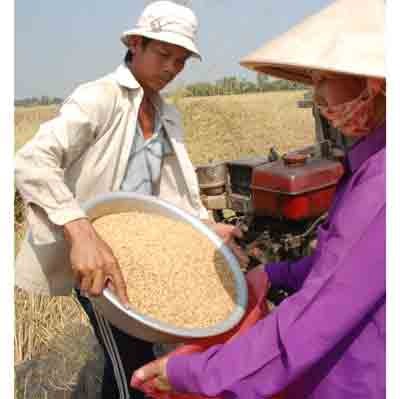 A farmer selling rice for export (Photo: Sai Gon Giai Phong)
According to Reuters, this agreement between Southern Food Corporation and Indonesia's Bureau of Logistics to export 300,000 tons of processed fifteen-percent broken rice costs at US$545 per ton. This also has helped ease strain in both exporters and farmers.
According to the contract, Vietnam will export around 7.3 million tons of rice and Vietnamese exporters will provide 7 million tons in 2011 and the remaining in 2012. Since the beginning of the year, exporters have sold more than 6.5 million tons of rice, earning nearly US$3.2 billion.
However, Vietnamese exporters are concerned because Indonesia is considering importing ten-percent broken rice from India at US$483 per ton as well as from their traditional suppliers Vietnam and Thailand.
India has not exported rice since 2008 and has stockpiles of about 54 million tons. When the rice prices hiked, India decided to export rice again and is now a tough competitor for Vietnam.
India stands at an advantage as its prices are always lower than Vietnam and Thailand by about US$100 per ton.
This has drawn world importers to consider India as an alternative supplier, besides Vietnam and Thailand. Vietnam has already lost the market in African countries.
Vietnam Food Association (VFA) says that importers have only purchased Vietnamese five-percent broken rice while they are turning to India for other varieties, reducing the export quantity from Vietnam in October, 2011 and fewer new contracts that will be signed.
Possibly, Vietnamese exporters fret that Indonesia will use the low costing of Indian rice to further depress prices in Vietnam.
Hence, in addition to seeking new markets, VFA plans to purchase rice for stockpiling in order to help farmers and maintain domestic prices.
Despite expert forecast that prices of agricultural products will be high in 2012, timing matters and export companies will have to gauge the market before making a move.