The Vietnam Timber and Forest Products Association said in context of the economic recession, the timber industry should pay more heed to the local furniture market, which still holds good potential.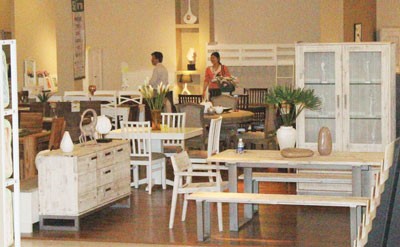 Wooden furniture displayed in a shop in HCMC, Timber industry eyes local furniture market  (Photo: SGGP)
Nguyen Ton Quyen, General Secretary of the Association, said despite the economic downturn, timber and wooden products turnover in 2013 increased by 12 percent with revenue at US$5.3-5.5 billion.

For more than 10 years the timber processing industry has seen strong growth. Export turnover of wooden products in 2000 stood at $219 million and in 2013 at $5.5 billion.

Vietnam currently tops Southeast Asia's wood export, is second in Asia and the sixth biggest timber and wooden products exporter in the world. The industry attracts 300,000 laborers working for 3,900 enterprises.

Due to importing regulations based on wood origin, wood import has declined and enterprises have started to focus on sustainable development by boosting use of wood from cultivated forests.
It is forecast that from 2010 to 2030, timber imports will decrease by 40 percent. For instance, total timber import in 2012 was equal to 90 percent in 2011.

Nguyen Ton Quyen said the industry's growth and requirements to clamp down on illegal timber trade and regulations on origin of wood, such as the Lacey Act of the US and FLEGT of the EU, will be the driving force in planting trees in the country.

Above all, there should be a connection between forest planters, processers and exporters. If there is close connection between these three parties, wood chips export will be limited and there will be more high quality trees grown for making furniture.
This is necessary, as at present trees in Vietnam do not produce as good quality wood as many other nations.

However, enterprises are eyeing the strong local furniture market and a consumer population of 90 million people.

The domestic furniture market is more or less in the hands of handicraft villages and small and medium enterprises which offer inconsistent quality wooden products.

In addition, foreign wooden furniture items from Singapore, Thailand and China are penetrating the home market.

Nevertheless, it is not easy to break into the local furniture market. The government just focuses on timber and wooden products for export rather than for the domestic market. Exporters enjoy tax exemption while enterprises for local furniture will have to pay Value Added Tax upto 10 percent.