On his return home after Viet Nam had become the World Trade Organization's 150th member, Mr. Tran Van Thinh, former EU GATT (General Agreement on Tariffs and Trade) Ambassador, shared his thoughts with young reporters through an internet chat room. His chief concern is what the future holds for Viet Nam's farmers, who make up 80% of the population.
Treating the poor and farmers well
Mr. Tran Van Thinh
Whether WTO membership brings success or failure depends on the behavior of each and every Vietnamese person. The rich will get even richer because they understand the WTO, but the poor unfortunately have only a vague knowledge of the subject.
"Who are the poor? Do you take care of us?" a young female newspaper peddler in Ho Chi Minh City asked me.
My answer is "yes", because one of the main principles of the WTO is non-discrimination. I think we should take an interest in farmers now that we belong to the WTO. Agriculture is a key industry of Viet Nam. If we treat them badly, there will be many social problems, as is the case in China.
When China joined the WTO, they didn't bargain well when it came to agricultural issues and their farmers paid the price. More than 200 million Chinese farmers moved to the big cities looking for jobs without a permit. The authorities ought to have let the farmers continue working in their fields.
When farmers are maltreated, the civilization of an agricultural country gets damaged. I hope that Viet Nam does not repeat China's mistakes.
Competition in agriculture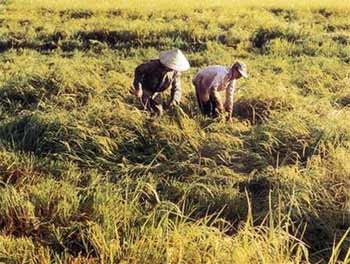 There will be more policies to raise the competition in agriculture.
We must improve agriculture and get competitive about our farming. For one thing, we must reject brokerage, the cause of the greatest number of complaints by farmers.
The farmers want to learn as much as they can about markets and marketing, and we should accommodate this desire.
So, the responsible leaders have to develop food processing and provide information in a way that is easy for farmers to understand.
WTO membership is for our benefit. It is a difficult struggle to make everyone happy. Fortune is brought to the people by commercial growth and economic, social and cultural development. I suggest we unite to fight on this economic battlefield.
Knowledge will help get rid of poverty
How can we help farmers now that Viet Nam belongs to the WTO? I think we should help them understand where they are in the economic development of the country, and give them information about and knowledge of science and technology, mainly through computers connected to the internet. I am setting up the website http://elangviet.net to explain the economic problems of farmers. If I can cover the expense and finish the project, farmers in 8,500 communes will be able to get hold of the important information. After all, knowledge is the key if people are to escape poverty.