Bilateral trade of Viet Nam and Thailand has increased steadily and reached almost US$5 billion last year. The number is expected to double by 2010.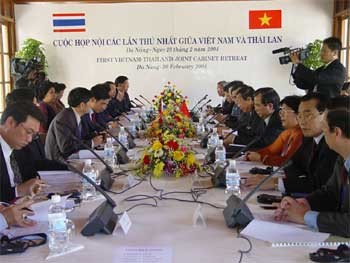 A meeting between two business missions of Viet Nam and Thailand (Filed photo)
Thai Commercial Counselor Unchalee Asavanmetha believes there is even more potential and has pledged to promote investment in Viet Nam.
Promoting the Thailand Outlet Fair-Hanoi 2008 being held in Hanoi from April 23 to 27 would give Thai business people a chance to study Viet Nam's retail market and do deals with local retailers, she said.
Praising Viet Nam's high economic growth last year, she said she would provide information to Thai businesses to encourage investment in Viet Nam. This year, the fair has attracted more than 30 Thai businesses which will exhibit consumer goods, including textiles, electronics, food, cosmetics, pharmaceuticals and auto parts.