Tens of thousands of hectares of abandoned industrial zones currently litter Vietnam's landscape.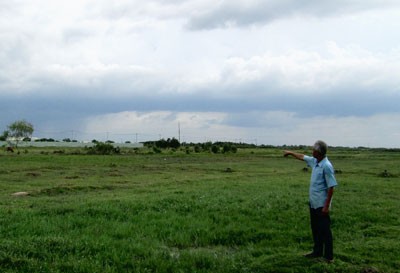 A man on his former land which has been withdrawn for Dong Nam Industrial Zone projects in Cu Chi District in HCMC. The area is vacant because the project has not started construction. (Photo: SGGP)
After 23 years of development, only 64 percent industrial zones built are currently in full operation, said Professor Vo Thanh Thu from the Economics University in HCMC. There are 184 large industrial zones and 1,000 small industrial parks being used.
In the Mekong Delta, 65.6 percent of the 42,559-hectares of industrial zones lay vacant.  The area currently has 74 large industrial zones and 214 small industrial parks.
Almost 100,000 households in the Mekong Delta have been relocated due to construction for industrial zones. However, construction has yet commenced in many of the areas.  These people are unemployed and without farmland.
Only 46 percent of industrial zones built across the country are used by businesses. Several industrial zones are abandoned due to a shortage of traffic and electricity infrastructures.
Many of the newly built zones lay vacant, according to the Management Board of Industrial Zones in Binh Duong.
The government has removed preference policies on business investment since 2009 yet several businesses hesitate to invest.
The economic recession in 2008 has slowed investment in industrial zones, according to HCMC Management Board on Industrial Zones and Export Processing Zones.
Provinces have developed industrial zones spontaneously, said Professor Thu. Both central and local authorities have not had cooperative strategies on this field.
A few real estate companies have built industrial zones and transferred investments due to a loophole in management.