Vietnam exported over 5.7 million tonnes of rice for nearly US$2.5 billion in the first ten months of this year, according to the Vietnam Food Association (VFA).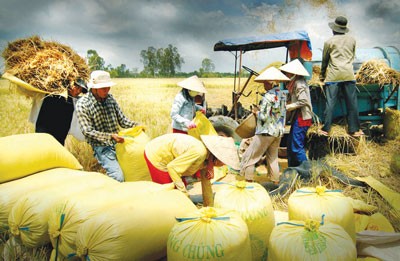 Farmers harvest rice in the Mekong Delta. (Photo: SGGP)
The export volume included more than 537,000 tonnes shipped in October, about 10,500 tonnes higher than total shipments in the previous month.
However, the price of rice exported last month dropped to $435.37 per tonne from $437.63 recorded in September.
Africa is emerging as a market with great potential for Vietnamese rice exports, according to the VFA.
In the first nine months of the year, African countries imported over 4.79 million tonnes of rice worth $2.05 billion from Vietnam, making the continent the largest importer of Vietnamese rice during the period.
It is followed by Asia , the Middle East , the US and the EU.
Vietnam has lowered bar for its rice export for 2013 to between 7-7.2 million tonnes from the targeted 7.5 million tonnes and is striving to open new markets.
As domestic businesses currently meet difficulties in exporting to traditional markets, promoting exports to new markets such as Africa and Mexico is considered an important solution.