The Co.opMart Supermarket Chain has said it will offer discounts of 7-15 percent on necessary commodities from March 15-28.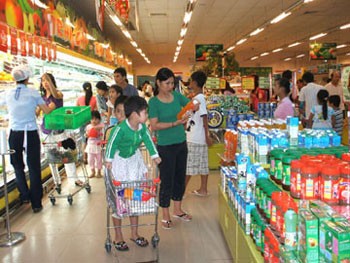 Co.op Mart and Big C supermarket shoppers can enjoy discounts on several items from March 15 to April 4
Accordingly, the price of a kilogram of chicken will slide to VND44,500, while that of a kilogram of South American seedless black grapefruit will fall to VND89,900.
A box of red Miliket instant noodles will cost just VND56,000; and a box of Dutch Lady Gold powdered milk will sell for VND278,000.
Similarly, Big C supermarkets will launch two promotional programs offering discounts from March 17 to April 4. The cost of some items will fall by as much as 50 percent.