Due to heavy and continuing losses, sugarcane growers in Phung Hiep District in Hau Giang Province plan to switch to growing other crops in 4,000 hectares of the present sugarcane area, in the next crop season.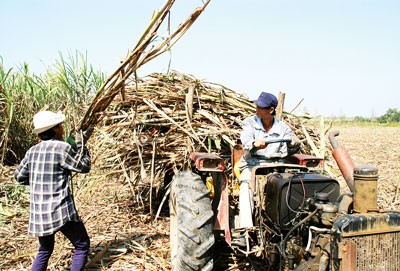 Farmers harvest sugarcane. (Photo: SGGP)
According to Nguyen The Tu, Head of the Department of Agriculture and Rural Development in Phung Hiep District, local farmers have so far harvested 8,000 hectares of 9,553 hectares of sugarcane area, with average productivity of 105 tons per hectare. Harvesting of the remaining area will be complete in next ten days. With selling price at VND740,000-920,000 per ton at field, farmers suffer an average loss of VND10-15 million per hectare.
In the face of such a situation, local agricultural authorities have decided to encourage farmers to switch to growing profitable cash crops such as fruits and rice across the 4,000 hectares of sugarcane area and only retain around 5,000 hectares of sugarcane area that has high productivity and produces high quality sugarcane in Bun Tau, Cay Duong Towns and Hiep Hung and Tan Phuoc Hung Communes.