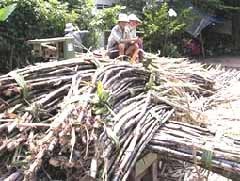 People in the Mekong Delta are rushing into planting sugarcanes.

The area of planting sugarcanes has been enlarged suddenly by about 2,000 hectares in Hau Giang, Soc Trang and Kien Giang provinces.

The main cause is high price of sugarcane for more than six months. The price of post -harvest sugarcane was VND700 per kilogram in the Mekong Delta by April 5.
The area of sugarcanes in the region might reach 100,000 hectares in 2006, according to sugar factories' forecast.
Hau Giang province is considering a private enterprise's proposal for expanding more 4,000 hectares of sugarcanes, supplying the province's 3rd sugar factory.