Domestic sugar price has dramatically decreased and lots of sugar factories are on the verge of bankruptcy, which considerably impacts the consumption of sugarcane raw material areas. Several famers in Tra Vinh and Ca Mau provinces are in miserable situation since local sugarcane plant has met a lot of trouble. Some farmers have not harvested overripe sugarcane in the fields because no one buys it. Sugarcane areas have gone down badly over the past few years. In the meanwhile, sugar price drop in the domestic market has put the sugar industry in a slew of difficulties.
Vietnam's sugar and sugarcane program has started since 1995. Up to now, the country has 40 sugar plants with the total design capacity of about 150 thousand tons per day, increasing 1.5 times compared to 2005 and 12.7 times compared to 1995. Average productivity reaches 65 tons per hectare. It is 7.1 percent lower than the world average productivity of 70 tons a hectare.
Vietnam has no longer spent billions of US dollars on import and basically satisfied domestic consumption demand. Besides, the sugarcane industry has created jobs and increased income for over 33,000 households and more than 1.5 million agricultural laborers, contributing in reducing poverty in rural areas. The annual sugar output of sugar plants and companies in the country fluctuates from 1.3 to 1.5 million tons, which basically guarantee domestic consumption demand and take part in market stabilization.
In the context of joining "international playground", enterprises and farmers that produce sugarcane and sugar with low price but high quality can compete and remain. Some sugarcane areas have been chopped down, a number of sugarcane enterprises have shut down because of weak competition in Mekong Delta over the past few years. Three out of ten sugar plants have shut down and gone bankrupt due to loss and failure in competition.
More investment in raw material areas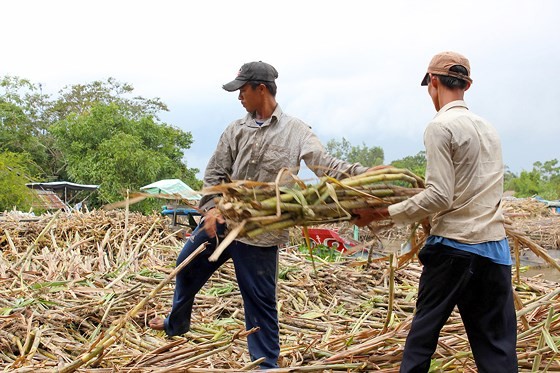 Farmers harvest sugarcane in the Mekong Delta (Photo: SGGP)
Sugar plants have processed six million tons of sugarcane to produce about 500,000 tons of sugar this month. Sugar price is now lower than that in the past few years. Enterprises have worried about the increasing tendency of sugarcane inventory.
According to Vietnamese Sugarcane Association, up to now, sugarcane inventory has reached about 388,000 tons, increasing over 100,000 tons compared to the middle of December 2017.
Recently, illicit sugar from Thailand with price lower than Vietnamese products have penetrated into the southwest border and threatened the Mekong Delta market. Thai firms have purchased sugarcane with the price as low as US$30-35 a ton, equivalent to 650-750 dong a kilogram. In the meanwhile, enterprises in Vietnam have to pay VND800-1,000 a kilogram.
In sugar production, material accounts for 70 percent to 80 percent of production cost. That has caused production cost in Vietnam higher than in Thailand by VND2,000-3,000 a kilogram. This is the reason why Thai sugar has been illegally imported with the amount from 300,000 to 500,000 tons year.
According to ASEAN Trade in Goods Agreement, from 2018, Thailand sugar will be officially imported into Vietnam with the tax of 5 percent but it is still cheaper than Vietnamese sugar.
Analyzing the drawbacks of sugarcane raw material areas in the Mekong Delta, the leader of a sugar plant said that the sugarcane industry in Vietnam has small production scale without applying mechanism in production and harvest. Sugarcane cultivation cost has been high because of annual re-planting. Sugarcane productivity and quality do not meet requirement. Cultivation and fertilizer are not appropriate for local soil conditions.
A sugar firm leader in the region say that if there are suitable mechanisms and policies as countries in ASEAN, farmers will be able to steadily stand and integrate. Those policies include zoning sugarcane material areas in accordance with current integration. Especially traffic and irrigation system should be developed to help farmers reduce production and harvest costs. Relevant agencies should assists farmers to develop large scale fields and cooperatives to apply mechanization in production and harvest.
According to ASEAN Trade in Goods Agreement (abbreviated as ATIGA) signed in 2009 between 10 ASEAN countries, from 2018, sugar products from countries in the ASEAN region will not be unlimitedly imported to Vietnam at the tax rate of 5 percent.
That is a big challenge for Vietnamese sugarcane industry which is weak because of being protected for the long period of time. Besides, it is a chance for sugarcane industry to re-engineer so as to integrate and develop.