In the last two months, Chinese traders have been purchasing large quantities of super-lard fat pigs from Vietnam, causing the price of pigs to climb very high and raising concerns about shortage of pork by year end in the local market.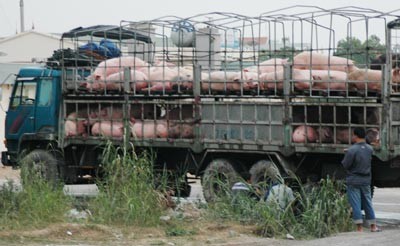 A truck packed with pigs on its way to Mong Cai Border Gate before going to China. (Photo: SGGP)
Since September, Chinese traders have been flocking to Vietnam to buy pigs, even going to far-off southern provinces to make their purchase. Many traders have also been seen in border provinces in the north, such as Lang Son and Quang Ninh.
According to Thu, owner of a popular restaurant near Huu Lung Quarantine Station in Lang Son Province, during the last two weeks, purchasing of pigs has become a vibrant activity during day and night, which now has led to a hike in price of pigs in the north.
Le Van Hung, a small trader in Bac Giang, said that the price of pigs has soared to VND50,000 per kilo from VND45,000 per kilo in the past week, or upto VND52,000 per kilo for fine quality from earlier VND38,000-40,000 per kilo.
Local traders claim that the rise in the price of pigs is because China is increasing import of pigs for consumption for year end.
Currently, pigs were mainly imported to China via three border gates, namely, Chi Ma and That Khe in Lang Son Province, and Bac Phong Sinh-Mong Cai in Quang Ninh Province.
At An Noi Market in Binh Luc District in Ha Nam Province, a famous pig market in the north where pigs from everywhere in the country are gathered before being transferred to border gates in the north, the scene has been much more bustling than on normal days. Trader Vu Van Bao said that Chinese traders have bought up as many available super-lard fat pigs; hence during the last month he has delivered a truck load of 100-120 super-lard pigs or 10 tons of pigs, to Lang Son Province every week.
Nguyen Van Trong, Deputy Head of Animal Husbandry Department under the Ministry of Agriculture and Rural Development, said that from the point of view of farmers, a hike in the price of pigs is good news as it helps them to earn profits. During the last few months, local price of pig was running below cost price, or even dropped to VND36,000-38,000 per kilo sometimes.
However, the Chinese market is unstable and can suddenly stop purchasing at any time. Local traders usually do business with Chinese traders without contracts so they are totally defenseless. Chinese traders prefer to buy pigs with more lard with weight of 90-100 kilo upwards as Chinese consumers love braised pork and roast pork while Vietnamese consumers prefer pigs with more lean. Therefore, if farmers raise super-lard pigs, their pigs will be unsalable when Chinese traders stop buying. Thus it is pretty risky if farmers indulge in raising super-lard pigs due to current price influence, warned Mr. Trong.
Mr. Trong said that local swine supply still ensures demand at year end and Lunar New Year festive season. However, the department also suggests that provinces control export of pork and continue to raise pigs and poultry to assure market stability at year end.
Nguyen Manh Hung, Deputy Director of the Department of Agriculture and Rural Development of Ha Nam Province, said that they have recommended to farmers not to switch to super-lard swine or let the weight of swine be over 100 kilo for immediate profits as they will suffer huge losses when China stops buying pigs from Vietnam.
Experts said that a similar situation in 2011 caused sudden hike in local food prices while lean-pig supply slumped. Authorities do not want this scenario to be repeated yet again.