The Vietnamese stock market is having a hard time making ground even as foreign money returns in force. What do the experts think about this paradox? And will the market shoot up at the end of the year when dividend time comes around?
 
Foreign money "lying in ambush"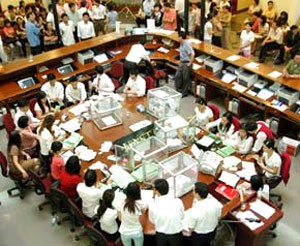 The prospect of fat year-end dividends is the biggest incentive to buy shares at the moment

Almost to a man the pundits are optimistic about the Vietnamese stock market, though it is well down from the highs early in the year and is having a hard time clawing its way back towards the thousand-point level.
 
"It's clear that foreign money appreciates the local market's potential as they're flocking in," says Nguyen Ngoc Tuoi, general director of Da Nang Securities.
 
That might be so but many foreign investors openly admit that they're waiting for more promised IPOs of several major companies before committing their cash.
 
According to the Viet Nam Fund Management Company, Viet Nam had 30 foreign investment funds at the end of last year, but their number has since doubled and will continue to be added to.
 
At the moment foreigners own US$5 billion worth of shares in Vietnamese companies. Three funds alone - Dragon Capital, Vina Capital and Indochina Capital - manage US$4 billion of this.
 
Analysts predict the sum will reach US$7 billion by year's end.
 
Mr. James Sang-Ho Ryu, CEO of newcomer Korea Investment & Securities, says his company is mainly waiting for the IPOs by big companies, but will also buy any listed stock if the price is right.
 
Manulife Vietnam is in there too and is gearing up for a share-buying spree by selling fund certificates. The insurer plans to invest 90-95 percent of its chartered capital in listed and OTC stocks.
 
Mr. Tuoi of Da Nang Securities says what makes the stock market appealing to foreign investors is Viet Nam's strong economic growth and the government's effective control of inflation and its policies for reining in prices.
 
Ajay Chhibber, the World Bank's Country Director in Viet Nam, says the country's economic growth is impressive yet consistent, and has a GDP that averages growth of 7-8 percent per annum.
 
Hunting for blue chips and higher dividends
 
Many specialists advise that this is a good time to buy shares as they believe that prices are sure to go higher as the end of the year approaches.
 
Stock analyst Huynh Huy Nam says the prospect of fat year-end dividends is the biggest incentive to buy shares at the moment.
 
Cash cows don't just interest the strategic investor, Nam says. They also attract those with a trading mentality, people hoping for a fast buck from a quick turnaround.
 
In his opinion, the most sought-after stocks are Sacombank (STB), Vinamilk (VNM), Pha Lai Thermal Power (PPC), REE Technology (REE), Vinh Son Hydropower (VSH), Tan Tao Industrial Zone (ITA), Song Da Urban & Industrial Zone Investment and Development (SIS), Schenker-Gemadept Logistics (GMD), Cables & Telecommunication Materials (SACOM), Sai Gon Securities Inc (SSI), Bao Minh Insurance (BMI), Asia Commercial Bank (ACB) and Kinh Do Food (KDC).
 
With revenue growing by over 50 percent on average, it's no wonder these stocks are still arousing strong interest.
 
At most times of the year, the high-revenue companies only attract strategic and long-term investors, but at dividend time there's no lack of traders hopping in before stocks go ex-dividend.