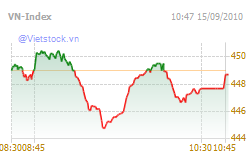 Movements of VN-Index on September 15. (Photo: vietstock.vn)
The shares of 255 companies and five mutual funds on the Ho Chi Minh Stock Exchange slid on September 15 as investors neglected to buy.
VN-Index, the Vietnam's benchmark, dipped 0.29 points, or 0.06 percent, to finish at 448.72 points.
Trading volume on the city bourse remained low as around 38.6 million shares, worth VND1.02 trillion, changed hands.
Among the index members, 53 gained, 152 dropped, while 55 were unchanged.
Ocean Group Joint Stock Company (OGC) led the list of most active shares by volume with 2.72 million shares traded.
It was followed by Refrigeration Electrical Engineering Corporation (REE) with 1.06 million shares. The company announced that it distributed 8 million shares to its 109 key employees and collected VND96 billion.
Saigon Securities Inc. (SSI) took the third rank. The country's largest brokerage chased after with 1.05 million shares changing hands.
Gia Lai Cane Sugar Thermoelectricity Joint Stock Company (SEC) tumbled 12.31 percent to VND23,500. The company announced that it would pay the remaining dividends of the year 2009 in cash at a ratio of 5 percent on October 8. It would also advance dividends for this year by shares at a ratio of 100:15.
Idico Urban and House Development Joint Stock Company (UIC) lost 4.98 percent to VND22,900.
Phan Anh Tuan bought 168,850 shares of Idico Urban and House Development Joint Stock Company (UIC) on May 25 to increase ownership ratio to 5.25 percent and became a major shareholder but he didn't made a report of major shareholder's ownership. In addition, from May 26 and June 2, he bought 66,500 shares and sold 81,000 shares of UIC without making announcement.
Techno - Agricultural Supplying Joint Stock Company (TSC) declined 4.97 percent to VND17,200.
Construction company Lilama 10 Joint Stock Company (L10) advanced 4.97 percent to VND35,900.
Cuchi Commercial and Industrial Developing Investment Joint Stock Company (CCI) surged 4.92 percent to VND25,600
Binh Thuan Hamico Mineral Joint Stock Company (KSA) traded at VND47,400, up 4.87 percent from the previous day.
The Hanoi's HNX-Index slashed 2.72 points, or 2.09 percent, to close at 127.21. Trading volume dropped by 13 percent over the previous day to around 27.8 million shares, valued VND665.8 billion.
The UPCoM-Index slightly added up 0.52 points to 47.98 as of 11:15 am local time. The market of unlisted shares saw 0.3 million shares change hands at VND6.4 billion