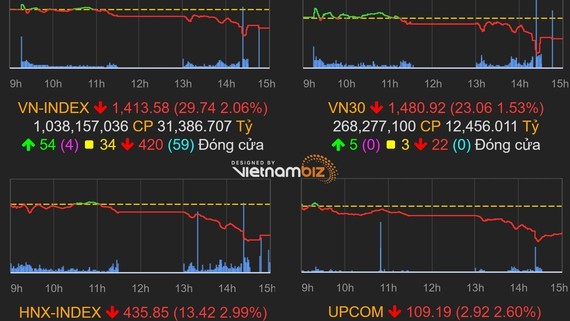 Although the bottom-fishing demand was still there, several stocks on the market dropped sharply because of the drastic selling pressure. Speculative and real estate stocks, after recovering for one or two trading sessions in the previous week, continued to hit the floor prices. Of these, at the end of the trading session, millions of FLC and ROS stocks were sold at floor prices, but there were no buyers.
The only group of stocks on the market that still maintained the green color was
banking stocks
, including TCB, ACB, VCB, CTG, and MBB, helping to buoy the benchmark. However, due to strong selling pressure in the market, the VN-Index still lost nearly 34 points at the close of the trading session.
Ending the session, VN-Index fell 33.18 points, or 2.25 percent, to close at 1,439.71 points, with 66 winners, 419 losers, and 22 unchanged stocks.
Closing the session on the Hanoi Stock Exchange, the HNX-Index sank 17.08 points, or 4.09 percent, down 400.76 points, with 46 gainers, 195 decliners, and 31 unchanged stocks. Market liquidity increased by nearly 7 percent compared to the previous session, and the total trading value exceeded VND27.07 trillion.
Gold surpasses VND62 million per tael

While the stock market fell sharply, domestic gold prices exceeded VND62 million per tael. SJC Company quoted gold price at VND61.5 million per tael for buying and VND62.1 million per tael for selling at 4.30 p.m. in HCMC, up VND270,000 in the buying rate and VND170,000 in the selling rate compared to the end of last week.

At the same time in Hanoi, Doji Group also bought gold at VND61.4 million per tael and sold at VND62.05 million per tael, up VND200,000 per tael in both buying and selling rates.

On the global gold market, the spot gold price in Asia at about noon on January 24 (Vietnam time) rose by US$1.2 compared to the closing price in New York to $1,837.8 an ounce. After conversion, this price level is equivalent to about VND50.4 million per tael, about VND11.5 million per tael lower than the domestic gold price.

Analysts said that investors have begun to seek gold as a haven after the stock market and cryptocurrencies plunged sharply due to recent sell-offs.