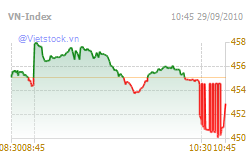 Movements of VN-Index on September 29. (Photo: vietstock.vn)

Vietnam's benchmark VN-Index stepped backwards on September 29 as investors hesitated to buy. Most investors did not participate the trading session before having oriented its trend.
The measure of 259 companies and five mutual funds listed on the Ho Chi Minh Stock Exchange shed 0.48 percent, or 2.19 points, to finish at 452.94 points.
Trading volume fell to the lowest level since August 24 as just around 33.1 million shares worth VND897 billion changed hands.
Among the index members, 42 advanced, 173 declined, while 49 remained unchanged.
Ocean Group Joint Stock Company (OGC) had 1.01 million shares traded to become the most active share in volume. It also was the only share whose trading volume was above 1 million shares today.
Logistics company Vinafco Joint Stock Corporation (VFC) followed with 940,150 shares.
Vietnam Export Import Commercial Joint Stock Bank (EIB) came in third with 919,550 shares.
Power Engineering Consulting Joint Stock Company 1 (TV1) slumped 24.15 percent to VND15,700. The company will issue 2 million shares to pay dividends for the year 2009 in cash at a ratio of 20 percent. Moreover, it will also issue 5.4 million additional shares to its current shareholders at a ratio of 10:5.4, and at a price of VND10,000 per share.
Cuu Long Pharmaceutical Joint Stock Corporation (DCL) and Sacombank Securities Joint Stock Company (SBS) both slashed 5 percent to VND47,500, and VND24,700 respectively.
Quoc Cuong Gia Lai Joint Stock Company (QCG) sank the first time in eleven days, erasing 4.92 percent to trade at VND30,900.
DESCON Construction Corporation (DCC) soared 4.8 percent to VND26,200.
National Seed Joint Stock Company (NSC) rose 4.72 percent to VND37,700.
Southern Seed Corporation (SSC) added up 4.59 percent to trade at VND31,900.
The smaller bourse in the north failed to maintain rising momentum due to poor demand. The Hanoi's HNX-Index reduced 2.76 points, or 2.12 percent, to 127.41 points. Trading volume was at 33.5 million shares, a value of VND842.7 billion.
The UPCoM-Index lost 0.09 points to 46.98 points as of 11:20 am local time. Around 0.5 million shares changed hands at VND7.1 billion.