Only 28 stocks gained while 70 securities declined after two consecutive sessions, the VN-Index edged up 0.12 points to end the session at 921.31 thanks to Pha Lai Thermal Power (PPC) at the Ho Chi Minh Stock Exchange on Thursday.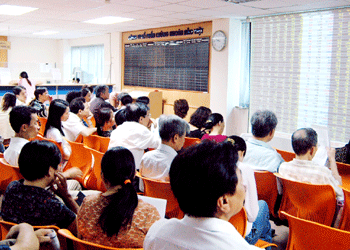 Investors are worried as some small caps lose their prices (Photo: Hoang Ha)
As a result, the market was affected with only one stock. Buying volume of PPC rose by VND2, 500 at the third session and stayed ceiling-priced at VND62,000 while the stockholders showed no interest in selling because its Price per Earnings (PE) index is lowest among blue chips.
Also Vinamilk (VNM) and Tay Ninh Rubber Company (TRC) added VND1, 000 while other blue chips CII, FPT, GMD, REE, SAM, STB remained unchanged at the close session of the previous day.
Shareholders of PetroVietnam Tourism and Services Joint Stock Company (PET) rushed into a big sell-off, leaving the share prices drop through the floor price to close at VND55,500. HTV, LBM, SHC, TRI also suffered the fate as PET.
In general, VN-Index fluctuates between 920 and 930 as predicted.