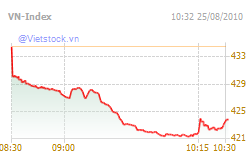 Movements of VN-Index on August 25. (Photo: vietstock.vn)

Investors opted to dump holdings cut losses on August 25 as stocks continuously dropped below psychological support level.
VN-Index, the benchmark of 253 companies and five mutual funds listed on the Ho Chi Minh Stock Exchange, declined 10.53 points, or 2.42 percent, to 423.89 points.
Trading volume rose by 10 percent over the previous session, climbing to 51.4 million shares, worth VND1.24 trillion.
Most blue-chips tumbled, except DPM, VHS, and DHG, which successfully maintained gains due to foreign investors' buying. On the city bourse, there were 20 gainers, 222 losers, and 16 remained unchanged.
Saigon Thuong Tin Commercial Bank or Sacombank (STB) continued to lead the most active shares by volume with 2.68 million shares changing hands.
It was followed by Refrigeration Electrical Engineering Corporation (REE), whose 1.97 million shares were traded today.
Vinh Son - Song Hinh Hydropower Joint Stock Company (VSH) came in third with 1.89 million shares.
My Chau Printing & Packaging Holding Company (MCP) slashed 9.6 percent to VND11,300. The company will advance dividends for its current shareholders at a ratio of 8 percent on September 17.
OPC Pharmaceutical Joint-Stock Company (OPC) dropped 6.96 percent to VND42,800.
Other decliners included Bao Viet Holdings (BVH), Dai Thien Loc Corporation (DTL), and Nui Nho Stone Joint Stock Company (NNC).
From September 1 to November 29, Dai Thien Loc Corporation (DTL) registered to sell all 1,000 shares to add to its working capital.
Son Ha International Corporation (SHI) was the biggest gainer on the southern market, gaining the daily maximum allowed limit of 5 percent to VND29,400. The company announced that it issued corporate bonds worth VND50 billion.
Ha Tien Transport Joint Stock Company (HTV) closed up 4.81 percent to VND39,200.
PetroVietnam Finance Joint Stock Corporation (PVF) rose by 4.71 percent to VND20,000.
The Hanoi's HNX-Index erased another 5.59 points, or percent, to close at 118.81 points. Around 36 million shares changed hands at a valued of VND753 billion.
The UPCoM-Index slid 1.58 points to 44.71 as of 11 am local time. A total of 500,000 shares traded at VND6.7 billion.