Analysts who had warned yesterday that a quick reversal by the index was as likely as not were vindicated today when the VN-Index shed 4.28 points to close at 925.57.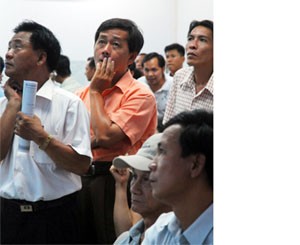 Investors look worried as the VN-Index falls down (Photo: Viet Dung)
Today's selling at the Ho Chi Minh Stock Exchange, which left 37 stocks worse off, was put down to profit taking after the slight gain of the previous session. Indeed, many of the blue chips that had performed well yesterday gave most or all of it back.
Kinh Do Food (KDC) shed VND6,000, Vinamilk (VNM) fell VND5,000, FPT Corporation (FPT) cast off VND4,000, REE Technology (REE) dropped VND1,000, Song Da Urban & Industrial zone Investment and Development (SJS) went down VND4,000 and Tan Tao Industrial Zone (ITA) continued its losing streak by dropping VND2,000.
With sellers successfully offloading more than one million shares, Sacombank (STB) fell a slight VND500 to end the session at VND54,500.
Electricity stocks, in contrast, extended their winning streak. Among them, Pha Lai Thermal Power (PPC) added VND2,000 and Vinh Son Hydro Power (VSH) rose VND2,100. 
Petro Viet Nam Drilling and Well Services (PVD) became more liquid again as nearly 250,000 shares changed hands, lifting the price by VND2,000 to close at VND152,000.
Gains by PPC, VSH and PVD were further evidence that investors are still interested in the market. Newly listed Ben Tre Aquatex (ACL) also generated some confidence by rising nearly ten percent.
The Vietnamese stock market is certainly volatile these days, of that there's no question, but most foreign and local analysts believe its prospects are bright. Time will tell.