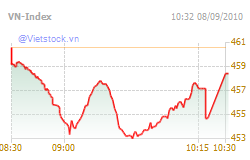 Movements of VN-Index on September 8. (Photo: vietstock.vn)

Stocks on the Ho Chi Minh Stock Exchange went down the second day on September 8 as investors promoted selling to take profits.
Vietnam's benchmark VN-Index, which tracks 253 companies and five mutual funds, slid 2.15 points, or 0.47 percent, to finish at 458.44.
Trading volume slightly rose over the previous day to 56.08 million shares, valued VND1.47 trillion.
Of the index, 52 stocks gained, 170 dropped, while 37 were flat.
Tien Len Steel Corporation Joint - Stock Company (TLH) was the most active share in volume with 2.62 million changing hands. The company's shares traded up 4.94 percent today.
Ranking second, Saigon Securities Inc. (SSI), the champion in the two past trading sessions, saw 1.76 million shares being traded.
Vietnam – Italy Steel Joint Stock Company (VIS) chased after with 1.75 million shares.
Vien Dong Pharmaceutical Joint Stock Company (DVD) eroded 27.08 percent to VND105,000. The company will sell 6,550,500 shares to its current shareholders at a price of VND20,000 per share and a ratio of 100:55. Moreover, it will also sell 539,500 shares to its employees at a price of VND10,000 per share.
From August 3 to 20, Medi Medical Investment Joint Stock Co., a major shareholder of DVD, sold 500,000 shares, reducing its holdings to 933,170 shares, accounting for 7.83 percent of DVD's chartered capital, to reduce holding ratio.
Between July 5 and August 25, An Binh Commercial Joint Stock Bank, the organization involves Vien Dong Pharmaceutical Joint Stock Company, sold 475,000 shares, bringing its holdings to 475,000 shares, restructuring its investment category.
Construction company Lilama 10 Joint Stock Company (L10) lost 5 percent to trade at VND34,200.
Vietnam Land Investment Corporation (VNI) curbed its five-straight-day winning streak, edging down 4.94 percent to VND23,100.
Minh Phu Seafood Group Corporation (MPC) advanced 5 percent to VND35,700.
Vinaship Joint Stock Company (VNA) climbed for three consecutive days, adding up 4.89 percent to VND19,300.
From July 9 to August 26, Mai Xuan Ngoat, deputy general director of Vinaship Joint Stock Company (VNA), sold 50,000 shares, sending his holdings to 78,100 shares.
Hanoi's HNX-Index also adjusted 3.06 points, or 2.26 percent, to 132.59. Trading volume on the northern market, however, jumped to 58.67 million shares, worth VND1.44 trillion.
The UPCoM-Index slipped 0.11 points to 47.84. A total of 172,700 shares changed hands at VND2.23 billion.