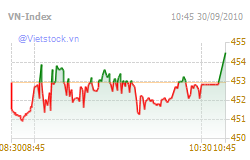 Movements of VN-Index on September 30. (Photo: vietstock.vn)

The shares of 259 companies and five mutual funds listed on the Ho Chi Minh Stock Exchange toiled to finish in green on September 30 thanked to support from blue-chip stocks.
The Vietnam's benchmark VN-Index rallied 0.35 percent, or 1.58 points, to 454.52 points.
Trading volume slightly improved over the previous session. Around 40.6 million shares changed hands at a value of VND1.2 trillion.
Of the index, 68 stocks increased, 139 slipped, while 58 were unchanged.
Ocean Group Joint Stock Company (OGC) was the most active share by volume with 1.82 million shares changing hands.
It was followed by transportation company Thuan Thao Corporation (GTT) with 855,850 shares. The company announced that it would issue 14,501,000 additional shares to its current shareholders at a ratio of 2:1, and at a price of VND10,000 per chare.
Saigon Thuong Tin Commercial Bank or Sacombank (STB) tagged along with 816,970 shares traded.
From September 10 to September 23, Dang Van Thanh, chairman of Saigon Thuong Tin Commercial Bank or Sacombank (STB) bought 2 million shares, raising his holdings to 28,020,039 shares, accounting for 4.18 percent of the company's chartered capital.
Bao Minh Insurance Corporation (BMI) rebounded from a previous loss of 3.03 percent, jumping the daily maximum allowed limit of 5 percent to VND16,800.
Long Giang Investment and Urban Development Joint Stock Company (LGL) climbed 4.9 percent to VND25,700.
Bao Viet Holdings (BVH) bobbed 4.72 percent to trade at VND55,500 from VND53,000 the previous day.
Construction company De Tam Joint Stock Company (DTA) ripped 5 percent to VND19,000.
Thien Nam Trading Import Export Corporation (TNA) plunged 4.97 percent to VND32,500.
South Logistics Joint Stock Company (STG) sliced 4.96 percent to VND34,500.
Meanwhile, the Hanoi's HNX-Index subtracted 0.12 points, or 0.09 percent, to 127.29. Trading volume fell by 25 percent over the previous day as just 26.3 million shares worth VND630.6 billion changed hands.
The UPCoM-Index of the market of unlisted shares deleted 0.92 points to 45.72 points. Trading volume was at 246,400 shares traded, approximately VND3.86 billion.