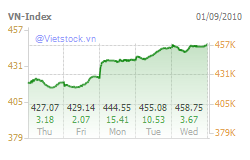 VN-Index has advanced for five consecutive days. (Photo: Vietstock.vn)

Vietnam's benchmark VN-Index extended its winning streak to the fifth consecutive day on September 1 due to investors' upbeat sentiment.
The shares of 253 companies and five mutual funds listed on the Ho Chi Minh Stock Exchange advanced 0.81 percent, or 3.67 points, to 458.75 points.
Trading volume on the city bourse was at 47.05 million shares, worth VND1.22 trillion. Foreign investors continued to buy blue-chip stocks heavily.
Of the index, 127 stocks gained, 80 fell, while 51 remained unchanged.
Investment and Trading of Real Estate Joint stock Company (ITC) topped the list of most active shares by volume with 2.01 million shares changing hands.
Refrigeration Electrical Engineering Corporation (REE) followed with 1.45 million shares.
Vinh Son - Song Hinh Hydropower Joint Stock Company (VSH) came in third with 1.41 million shares.
Gainers on the southern market were led by Vien Dong Investment Development Trading Corporation (VID), Dien Quang Joint Stock Company (DQC), Sea & Air Freight International (SFI), and Song Da Urban & Industrial Zone Investment and Development Joint Stock Company (SJS). They all jumped 5 percent.
From September 6 to November 11, Saigon-Vien Dong Technology Company, whose representative is Nguyen Thi Thu - vice Chairman cum deputy general director of Vien Dong Investment Development Trading Corporation (VID), registered to buy 500,000 shares, increasing its holdings to 670,170 shares, accounting for 2.63 percent of VID's chartered capital, to balance its investment category.
Petro Viet Nam Low Pressure GAS Distribution Joint Stock Company (PGD) dropped 13.78 percent to VND29,400. The company will pay dividends for the first term of this year in cash at a ratio of 15 percent. In addition, it planed to issue 8.25 million additional shares and sell to its current shareholders at a ratio of 4:1 and a price of VND10,000 per share.
Camau Trading Joint Stock Company (CMV) declined for two consecutive days, losing 5 percent to VND28,500.
Sai Gon Fuel Company (SFC) capped its four-straight-day-rising streak, eroding 4.86 percent to VND35,200.
Hanoi's HNX-Index added 3.26 points, or 2.54 percent, to 131.66 points. Around 45.3 million shares changed hands, valued VND1.02 trillion.
The UPCoM-Index adjusted 0.22 points to 49.06 as of 11:20 am local time. A total of 300,000 shares were traded at VND4.6 billion.
Vietnam's stock markets will close three days for the National Day and will open again on September 6.