Buying pressure again exceeded selling pressure and sent the VN-Index up 34.06 points to over 1,000 at the Ho Chi Minh Stock Exchange on Monday.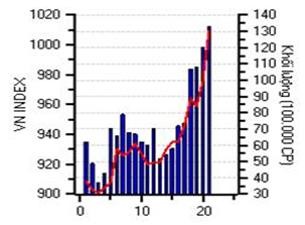 VN-Index chart for September 25
It was a record day for the trading volume, with 13.39 million shares and fund certificates changing hands for VND1.25 trillion. 
Following strong gains by Sacombank (STB), FPT Corporation (FPT), REE Technology (REE) and Vincom (VIC) two days ago, this morning's session saw substantial increases by 15 big caps. 
With the exception of REE, these stocks along with VSH, VIP, VNE, SJS and GMD rose limit up. 
STB and VIC are still the most sought-after shares. Sacombank has added VND18,000 this month, and newcomer VIC has been no slouch either.  
When the news came out that VIC's earnings-per-share had passed VND9,000, there was a sudden flurry of bids for a stock that many still consider cheap. 
Meanwhile, the strong gains by Kinh Do Food (KDC) and North Kinh Do (NKD) came after they revealed bigger profits compared to a year ago. 
It wasn't just the big boys pulling in the bids; small caps like DXP, TNA, SMC, BBT and PJT also rose limit up today.  
Still, a few stocks bucked the trend and went south, among them BMC, GTA, LBM, COM and SFI. 
The way things are going it looks like the VN-Index will reach 1,050 points very soon. The enthusiasm is not confined to the southern bourse; the HASTC-Index in Ha Noi is also climbing steadily.