Chairman of the State Security Commission of Vietnam (SSC) Vu Bang has said that the goal of Vietnamese stock market for this year is stability in stead of growth because of many negative impacts abroad.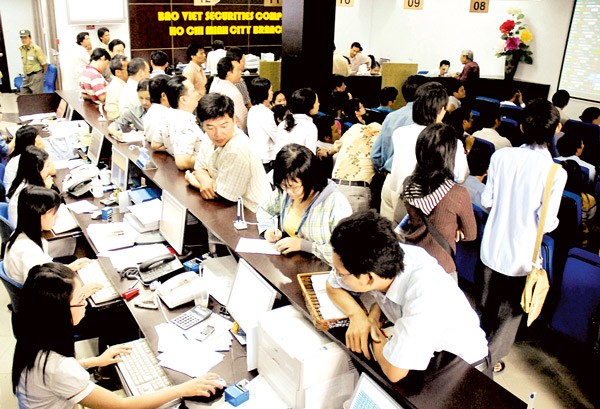 Bao Viet Stock Exchange in HCMC (Photo: SGGP)
The stock market in 2015 closed with the VN-Index reaching 579.03 points, up 5.5 percent over the early of the year but it still fell short of investors' expectations.
Capital raising through the stock market hit VND290 trillion (US$12.91 billion), accounting for 28 percent of total investment capital.
Although liquidity saw a year on year reduction of 19.2 percent to average only VND2.5 trillion (US$111.3 million) per session, market capitalization posted a year on year increase of 14.35 percent to top VND1,140 trillion (US$50.75 billion).
The stock market experienced a year of ups and downs because of negative impacts abroad although the national economy showed a recovery with positive growth rate.
Oil price and exchange rate fluctuation were the largest impact factors, experts said.
The world oil price plunge seriously depreciated local oil and gas stocks. The U.S. dollar appreciation in combination with unusual depreciation of Chinese Yuan and the State Bank of Vietnam's adjustment of the Vietnamese dong to U.S. dollar exchange rate had resulted in negative reacts in the stock market.
Foreign investors' sale trend since the third quarter had put more pressure on the market.
A highlight in 2015 is that the Government's Decree 60/2014 officially extended foreign stake-holding ratio in Vietnamese companies in June. However in reality, this regulation has yet to be implemented as businesses have to wait for relevant circulars.
By the end of the year, only Saigon Securities Incorporation has been permitted to extend the room to 100 percent. Other firms have still waited for specific instructions.
Statistics by stocks companies show that 94 listed companies had room for foreign investors but only 10 percent were full. Foreign capital in Vietnamese stock market maintained the ratio of 8-15 percent per session and focused on three main groups including banking, financial services, and construction and building materials.
Foreign investors poured about VND2.8 trillion (US$125 million) into Vietnam's stock market, down 13 percent over 2014.
Breakthrough unlikely
In the first four sessions this year, Vietnam saw three down sessions.  Of these, VN-Index lost nearly 10 points after Chinese stock market stopped trading for the second time on January 7, which led to a selloff in Vietnamese market.
Some experts said that Vietnam did not undergo great impacts from Chinese extended losses. However it seems to have concerned both foreign and local investors resulting in selloffs in the first sessions of 2016.
The stock market is likely to face more challenges this year than last year as the global economy has not recovered clearly while the local economy is unlikely to escape from latent difficulties. Hence, it will be difficult for the stock market to create a breakthrough.
According to Dr. Dinh The Hien, in overall it is impossible to expect a vigorous growth of Vietnamese stock market this year because the economy still needs time to repair its shortcomings.
The group of key stocks will continue to be in volatility. Banking and real estate stocks will face problems in bad debt solving and investment capital. The world's low oil prices will raise difficulties for oil and gas share trading, he added.