All 153 stocks on the Ho Chi Minh City Stock Exchange (HoSE) advanced yesterday, the first trading session since the State Securities Commission doubled the daily trading band to 2 percent.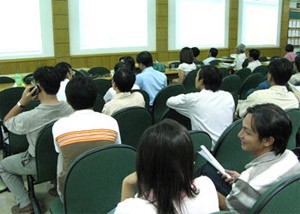 At the first trading session since the new daily trading band is applied
The VN-Index gained 9.3 points to close at 542.3.
 
While there were buyers for around 30 million shares, there were only sellers for 2 million.
 
Over 7.5 million shares worth VND666 billion (US$41.6 million) changed hands yesterday, five times higher than last Friday.
 
An investor at Saigon Securities Incorporation said if the big gap between supply and demand continued for a few more days, the government might continue to widen the band.
 
But an analyst said the current bands of 2 percent at the HoSE and 3 percent at the Ha Noi Securities Trading Center were reasonable.
 
The old bands of 5 and 10 percent should be reapplied only after the balance between supply and demand was restored, he added.
 
In Ha Noi, the HASTC-Index climbed by 5.04 points to close at 198.33. Around 1.7 million shares worth VND87.56 billion were traded.