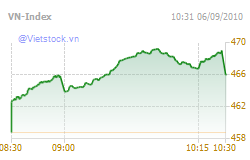 Movements of VN-Index on September 6. (Photo: vietstock.vn)

Vietnam's benchmark VN-Index extended rising trend to the sixth consecutive day on September 6 as investors continued to keep upbeat sentiment after a five-day holiday.
The measure of 253 companies and five mutual funds listed on the Ho Chi Minh Stock Exchange surged 7.25 points, or 1.58 percent, to finish at 466 points.
Among the index members, 215 advanced, 20 retreated, while 23 remained unchanged.
Trading volume on the city bourse jumped to the highest level in the past two months as around 57.2 million shares changed hands at VND1.6 trillion.
Vietnam's largest brokerage, Saigon Securities Inc. (SSI), won the position of the most active share by volume as more than 3.17 million shares were traded today.
HCMC-based Refrigeration Electrical Engineering Corporation (REE) followed with 2.45 million shares changing hands.
Ocean Group Joint Stock Company (OGC) came next with 1.68 million shares being traded.
Winners on southern market were led by Dream House Investment Corporation (DRH), which bounced by 5 percent to trade at VND16,800.
Others included Becamex Infrastructure Development Joint Stock Company (IJC), Kinh Bac City Development Share Holding Corporation (KBC), and LICOGI 16 Joint Stock Company (LCG).
Viet Nam Joint Stock Commercial Bank for Industry and Trade (CTG) slumped 12.93 percent to VND20,200. The company will issue 392 million additional shares and sell to its current shareholders at a ratio of 100:28 and at a price of VND10,000 per shares. It will also pay dividends by shares at a ratio of 100:6.83.
Viettronics Tan Binh Joint Stock Company (VTB) ended its three-day winning streak, dropping 4.83 percent to VND19,700.
Petrovietnam Drilling and Well Services Joint Stock Company (PVD) sank 4.76 percent to VND44,000.
Meanwhile, the Hanoi's HNX-Index also climbed 5.14 points, or 3.9 percent, to 136.8 points. Trading volume, however, fell to around 36.35 million shares, worth VND880.51 billion.
The index of unlisted shares, UPCoM-Index, also faintly recovered 0.24 points to 49.26 points. A total of 294,000 shares changed hands at a value of VND3.79 billion.