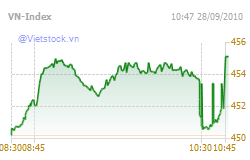 Movements of VN-Index on September 28. (Photo: vietstock.vn)

Stocks on the Ho Chi Minh Stock Exchange rose on September 28 as the amended Circular 13 promises to create better conditions for cash flow and stock markets.
The State Bank of Vietnam would continue to keep benchmark interest rate at 8 percent in October. In addition, Vietnam's GDP exceeded a year's goal for the first time, helped to brighten the economic picture.
VN-Index, which tracks 259 companies and five mutual funds, bounced 1.1 percent, or 4.93 points, to finish at 455.13 points, the highest level in the past five trading sessions.
Liquidity on the city bourse increased 5 percent in volume, and 10 percent in value over the previous day. Around 38.9 million shares changed hands at a value of VND1.05 trillion.
On the index, there were 150 winners. The number of losers was the same as the number of unmoved stocks at 57.
Saigon Thuong Tin Commercial Bank or Sacombank (STB) won the position of most active share by volume with 3.06 million shares changing hands.
Ocean Group Joint Stock Company (OGC) fell to the second rank with 2.68 million shares traded.
Petro Capital & Infrastructure Investment Joint Stock Company (PTL) came in next with 1.22 million shares.
Nari Hamico Minerals Joint Stock Company (KSS), which sprang 4.96 percent to VND36,000, was the biggest gainers.
Binh Thuan Hamico Mineral Joint Stock Company (KSA) and South Logistics Joint Stock Company (STG) both advanced 4.76 percent to VND55,000, and VND35,200 respectively.
From September 6 to 20, Saigon Thuong Tin Investment Co., major shareholder of South Logistics Joint Stock Company (STG), sold 386,000 shares, reducing its holdings to 386,619 shares, accounting for 4.63 percent of the company's issued shares, to restructure its investment category.
Construction company Chuong Duong Corporation (CDC) climbed 4.73 percent to VND31,000.
Decliners included TMT Automobile Joint Stock Company (TMT), Viet Thang Aquafeed Joint Stock Company (VTF), and Saigon Fuel Company (SFC).
The smaller bourse in the north also edged up as the Hanoi's HNX-Index added 0.24 points, or 0.18 percent, to 130.17 points. Trading volume on the northern floor jumped by 30 percent over the previous session as 34.6 million shares traded at VND981 billion.
The UPCoM-Index inched up 0.17 points to 47.13. The market of unlisted shares saw 0.25 million shares changing hands, worth VND4.2 billion, as of 11:15 am local time.