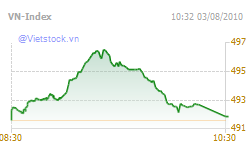 Movements of VN-Index on August 3. (Photo: vietstock.vn)

Vietnam's benchmark VN-Index was expected to rise strongly as green status was maintained during the trading session on August 3. However, that rising momentum weakened by the end of the trading session as investors remained wary.
The shares of 251 companies and four mutual funds listed on the Ho Chi Minh Stock Exchange edged up 0.06 percent, or 0.29 points, to 491.9.
Of the index, 75 stocks gained, 128 fell, while 52 remained unchanged.
Trading volume recovered as 42.3 million shares, worth VND1.26 trillion, changed hands.
With 1.71 million shares changing hands today, Thanh Cong Textile Garment Investment Trading Joint Stock Company (TCM) continued to top the list of most active shares by volume for the second day.
Saigon Securities Inc. (SSI), the country's largest brokerage, took the second rank with 1.17 million shares.
Investment and Trading of Real Estate Joint stock Company (ITC) tagged along with 1.15 million shares.
Nam Viet Corporation (ANV) jumped the daily maximum allowed limit of 5 percent to VND18,900.
Thong Nhat Rubber Joint Stock Company (TNC) surged by 4.95 percent to VND21,200.
From June 29 to July 15, Chau Thi Hong Diep, wife of Le Van Loi – chairman of Thong Nhat Rubber Joint Stock Company (TNC), had registered to buy 50,000 shares, but she only bought 12,210 shares because prices were not as expected, raising her holdings to 157,210 shares, accounting for 0.82 percent of the company's chartered capital.
Idico Urban and House Development Joint Stock Company (UIC) advanced 4.91 percent to VND29,900.
South Logistics Joint Stock Company (STG), which lost 4.88 percent to VND39,000, led the losers on the city bourse.
DIC Investment and Trading Joint Stock Company (DIC) shrank 4.86 percent to VND33,300.
Techno - Agricultural Supplying Joint Stock Company (TSC) moved backwards for the second consecutive day, slipping 4.82 percent to VND21,700.
Hanoi's HNX-Index dipped 0.9 points, or 0.59 percent, to finish at 150.48. Liquidity on the market slightly improved over the previous day, climbing to 28.52 million shares, valued at VND806.84 billion.
The UPCoM-Index also contracted 0.03 points to 51.74. A total of 404,280 shares changed hands, at VND8.79 billion, as of 11 am local time.