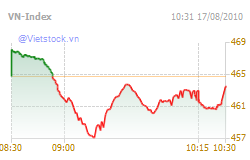 Movements of VN-Index on August 17. (Photo: vietstock.vn)

Vietnam's benchmark VN-Index lost ground on August 17 after jumping 2.66 percent the previous day as investors were wary over bad news came out of Asian stock markets.
The shares of 253 companies and five mutual funds listed on the Ho Chi Minh Stock Exchange shrank 0.27 percent, or 1.24 points, to finish at 463.52 points.
Among the index members, 53 stocks advanced, 162 retreated, while 43 remained unchanged.
Trading volume decreased by VND200 billion over the previous trading session to VND1.06 trillion as just 36.69 million shares changed hands.
Saigon Thuong Tin Commercial Bank or Sacombank (STB) topped the list of most active shares by volume with 1.49 million shares changing hands.
Vinh Son - Song Hinh Hydropower Joint Stock Company (VSH) ranked second with 1.38 million shares, followed by Ha Tien Transport Joint Stock Company (HTV) with 1.15 million shares.
From July 23 to 30, Tran Minh Huy, chief accountant of Ha Tien Transport Joint Stock Company (HTV) sold all 3,000 shares to pay tuition fees for his children.
From July 6 to 30, Nguyen Tuan Anh, director of HTV sold all 5,000 shares for personal needs.
Urban Development and Construction Corporation (UDC) declined 4.95 percent to VND17,300.
Lu Gia Mechanical Electric Joint Stock Company (LGC) lost 4.91 percent to VND27,100.
Stationery producer Thien Long Group Corporation (TLG) gave up 4.85 percent to VND29,400.
The Ho Chi Minh Stock Exchange announced that stocks of Interfood Shareholding Company (IFS) would be suspended from trading on the city bourse since August 17 as the company has been running at a loss for two consecutive years. The company lost more than VND260 billion in 2008, and VND27.7 billion in 2009.
From August 13 to October 13, Pang Tee Chiang, chairman of Interfood Shareholding Company (IFS), registered to buy 221,520 shares, increasing his holdings to 6,921,549 shares, of which 5,499,840 shares were unlisted.
Meanwhile, Ha Tien 1 Cement Joint Stock Company (HT1), Lilama 10 Joint Stock Company (L10), and South Logistics Joint Stock Company (STG) all shot up the daily maximum allowed limit of 5 percent to VND12,600, VND37,800, and VND37,800 respectively.
In the north, Hanoi-based HNX-Index slipped 3.92 points, or 2.8 percent, to 136.19 points. Trading volume fell by 15 percent over the previous session to just above 29 million shares, worth VND729.86 billion.
The UPCoM-Index slid 1.45 points to 49.13. A total of 224,200 shares were traded at VND3.94 billion as of lunchtime.