After the Vietnam's benchmark VN-Index lost nearly 60 points in August, although there were some positive trading sessions in the first half of September, trading on the Vietnam's stock market remained muted with bearish sentiment covering the market as investors were cautious of possibility that the US Federal Reserve would raise interest rate.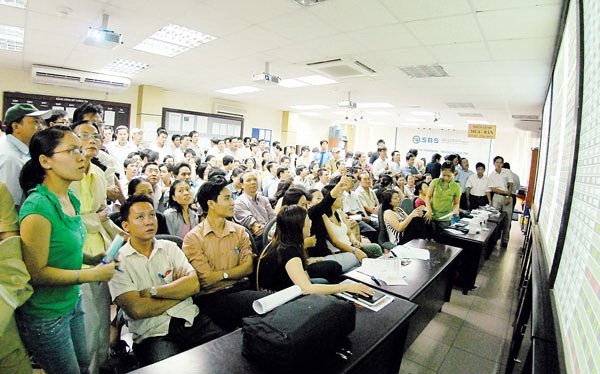 Investors are cautious of possibility that the US Federal Reserve will raise interest rate. (Photo: SGGP)
Beside microcosmic factors, such as business result, macroscopic ones, including economic growth, interest rate, and exchange rate, also have close interrelation with movements of new emerging stock markets, especially when export and import and foreign investment inflows are among key elements in gross domestic product of these countries. As for Vietnam, where its currency always devalues against the US dollar, its stock market usually plummets when the Vietnamese dong depreciates. In fact, the last two times when the Vietnamese dong devalued most against the US dollar, 6 percent in 2009 and 9 percent in 2011, the country's benchmark VN-Index both fell into bad situations. The Vietnamese dong has lost 5 percent in the first eight months of 2015, the country's stock market collapsed almost immediately on August 19. This is the reason that stock market has been 'holding its breath' in the past few days, waiting for the Fed's decision.
 
Financial expert Nguyen Tri Hieu analyzed that as China's economic situation was worsening; the Chinese yuan renminbi against the US dollar constantly changed; global gold and oil prices continuously dropped; and many economies were hit by financial crunch; therefore, global economy would not be able to thrive till the end of this year. Amid this context, investment markets in Vietnam will suffer various impacts. Stock market, in particular, will be seriously affected in the near future with foreign investors pulling out.
 
'Share prices of industries relevant to mineral mining and importing will probably drop. However, stock market is still considered as a market with high transparency and is invested by professional investors so it contains stability,' Mr. Hieu said.
 
Nguyen Xuan Binh, deputy director of Research Department of Bao Viet Securities Company, said that the State Bank of Vietnam will not likely to devalue the Vietnamese dong further as the gap between deposit savings interest rates of Vietnamese dong and the US dollar have been curtailed significantly. Total devaluation level of the Vietnamese dong against the US dollar since the beginning of this year was 5.1 percent, nearly equal to the difference between Vietnamese dong and US dollar deposit interest rates which is currently at about 6 percent. If the central bank continued to devaluate the Vietnamese dong, it would affect trust in this currency, increasing dollarization pressure, and sabotaging monetary policy's targets.
 
In the past two weeks, market liquidity resumed losing momentum with average total trading value merely at VND1.87 trillion per session, down nearly 10 percent compared to the previous weeks. Trading volume of many trading sessions was below VND1.5 trillion as investors were in cautious sentiment. As present, there was no news strong enough to draw cash flow into stock market. In addition, investors were waiting for the US Fed to announce its conclusion for its policy meeting on September 18.
 
A raise in interest rate by the Fed will trigger a large amount of money invested by foreign investors to outflow out of Vietnam's stock market, urging local investors to keep bearish sentiment, said Hoang Cong Tuan, senior specialist of MB Securities Company. However, according to him, if the Fed increased its interest rate by less than 0.5 percent, the stock market would not be affected much.
 
Meanwhile, Rong Viet Securities Company said that if the Fed raised its interest rate, it would cause many risks to new emerging markets, including Vietnam's stock market.
 
However, following capital flows of exchange-traded funds in the past few months, it shows that despite capital withdrawal pressure, Vietnam's stock market is still considered as an attractive market to foreign investors. Figures show that in the first weeks of September, capital flows from foreign investors continued to pour into new emerging markets. For instance, capital flows into new emerging markets rose by US$10 billion, of which 40 percent was from ETFs. Foreign investment capital flows also returned to Vietnamese market. Nevertheless, VNM exchange traded fund was reduced by $7.2 million. Thus, in this scenario, pessimism psychology after the Fed's decision might cause the Vietnam's stock market to decline in short term.
 
According to Mr. Hieu, current deposit interest rates at commercial banks in Vietnam were slightly increasing. Once interest rate surge, it will boost stock market as share prices will possibly be cheaper, making stock market become more attractive in investors' eyes.