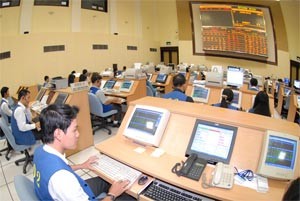 A trading session at the Ho Chi Minh City Securities Trading Center.
The VN-Index has been on the increase since January 3, rising to 983.60 points on Tuesday. Driven by price surges in 40 to 50 percent of the stocks listed on the local exchange, the index is poised to reach the 1,000 point level.
This upturn, however, is largely dependent on the stock prices of giants like Vinamilk, Reetech, Germadept, Sacom, Sacombank, FPT, Itaco and PV Drilling. Changes to the values of these stocks have a marked effect on index levels.
Sacom's pre-tax profit reached US$12.2 million at the end of 2006, a 90% rise over the previous year. They also announced plans to issue general stocks in an attempt to raise charter capital.
Meanwhile, Sacombank's pre-tax profit last year was US$32.5 million, a 70% increase over 2005, translating into dividends paid out in the form of stocks at a ratio of 1:10.
Reetech has been permitted to issue more than 4,450,000 stocks within ninety days after January 11. Itaco has also been allowed to issue five million more.
Currently, the number of PV Drilling stocks cannot meet demands from the stock market.    
Vinamilk and FPT are planning to have their stocks listed on foreign markets. FPT, with only 14% of its stocks held by foreign investors, will likely attract more investment than Vinamilk since only about 8% of the dairy producer's stocks remain to be purchased (foreign stock holders are only permitted to hold 49% of a company's total number of stocks).
Nevertheless, some stocks are falling sharply, including DHG, SDN, VID, LBM, VPK, MPC, TDH, HBC and LGC.  
THD's stock price is now worth US$12 per share, down US$7 from its initial value, while HBC has seen its stock drop from US$6.4 per share to US$5.3.
Out of 30 stocks suffering a heavy downturn, seven hit the floor price on Tuesday. The surging VN-Index has masked the fact that many investors have suffered heavy losses.