Investors returned to the Ho Chi Minh Stock Exchange with renewed vigor after the break for Independence Day to lift the VN-Index by 21.48 points to 929.85.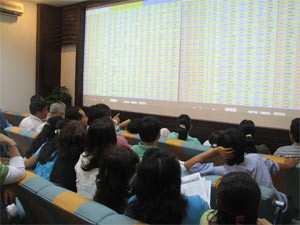 Local investors watch the trading board at the Ho Chi Minh Stock Exchange, ( Photo TC )  
Electricity stocks accounted for some of the increased trading volume and played a part in the index's rise, with Pha Lai Thermal Power (PPC) adding VND2,500 and Vinh Son Hydro Power (VSH) putting on VND2,300.
Other big caps followed suit. Kinh Do Food (KDC) and Song Da Urban & Industrial zone Investment and Development (SJS) rose VND6,000, REE Technology (REE) added VND5,000, and FPT Corporation (FPT), Vinamilk (VNM) and Petro Viet Nam Drilling and Well Services (PVD) went up VND4,000.
Similarly, Viet Nam Petroleum Transport (VIP) increased by VND3,000, Schenker-Gemadept Logistics (GMD) climbed VND1,500 and Saigon Cables & Telecommunications Material (SAM) added VND1,000.
Pharmaceutical stocks also put on an impressive performance, with Domesco Medical (DMC) rising VND7,000, Bach Tuyet Cotton (BBT) adding VND1,000, Imexpharm (IMP) going up VND8,000 and Hau Giang Pharmacy (DHG) increasing VND2,000.
An additional share issue with an attractive swap saw Ha Noi Post & Telecommunication Construction and Installation (HAS) put on VND4,500 to end the session at VND102,000.
Higher revenue in the first seven months, in fact 200 percent more than for all of 2006, gave investors a good reason to push Hang Xanh Auto (HAX) up to VND81,000.
Local confidence in the market seems to be returning thanks to the recent rally and the optimistic reports from foreign investment houses.
Still, analysts are recommending that traders tread carefully in these volatile times as a quick reversal by the index is just as likely as not.