The VN-Index edged up for the second day in a row at the Ho Chi Minh Stock Exchange on Friday to finish the session 5.77 points higher at 934.13.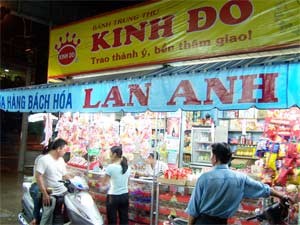 Kinh Do Food (KDC) shed despite their higher profits from selling moon cakes for the mid-autumn festival (Photo: HU)
Petro Viet Nam Drilling and Well Services (PVD) rose VND4,000, Vinamilk (VNM) added VND2,000 and Vinh Son Hydropower (VSH) went up VND500.
Analysts' predictions of more good times ahead for PVD undoubtedly helped push the stock to VND160,000, its fourth up day in a row.
Similarly, Pha Lai Thermal Power (PPC) climbed VND1,500 and Binh Minh Plastic put on VND6,000.
Investors and traders had no strong views either way on Sacombank (STB), FPT Corporation (FPT), Tan Tao Industrial Zone (ITA), Saigon Cables & Telecommunications Materials (SAM) or Song Da Urban & Industrial Zone Investment and Development (SJS), which ended the session where they'd begun.
Smaller stocks played a minor part in pushing up the index. Lu Gia Mechanical Electric (LGC) added VND6,000, Sa Giang Import Export (SGC) increased VND2,100, Lam Dong Minerals & Building Materials (LBM) rose VND2,500 and Ha Noi Maritime (MHC) climbed VND1,700.
On the downside, REE Technology (REE), Viet Nam Petroleum Transport (VIP) and Schenker-Gemadept Logistics (GMD) surprised the market by declining VND1,000.
Bakery stocks shed some dough too despite their higher profits from selling mountains of moon cakes for the mid-autumn festival. Kinh Do Food (KDC) cast off VND2,000 and Bien Hoa Confectionery (BBC) sank by VND500.