The VN-Index fell 1.82 points to 1,014.09 this morning after three days when it rose more than 50 points.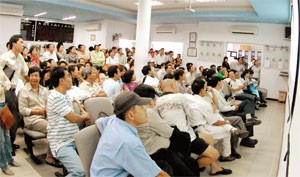 The Vietnamese stock market drops slightly today
The number of sell orders remained high at the Ho Chi Minh Stock Exchange, while buy orders were slightly down.

As predicted, Sacombank (STB) and Vincom (VIC) reversed course and shed a little of their recent gains.

STB fell by VND2,500 to VND68,500 as more than two million shares changed hands. The number of unmatched sell orders was four times that of the unmatched buy orders.

To no-one's surprise, VIC shares dropped by VND7,000 to VND150,000 and will probably keep going down following the sale of its big stake in the Vincom building.

Other blue chips followed suit. Kinh Do Food (KDC) and North Kinh Do (NKD) fell by VND3,000 and VND4,000 respectively, REE Technology (REE) and Saigon Cables & Telecommunication Materials (SAM) cast off VND2,000, and Petro Vietnam Drilling and Well Services (PVD) declined by VND1,000.

Among the small caps, Vien Lien (UNI) dropped VND5,000, Binh Dinh Minerals (BMC) and Tay Ninh Cable Tour (TCT) shed VND3,000, and Sea Food Company No. 4 (TS4) lost VND2,500.

It wasn't entirely one-way traffic, or the index would have dropped much further. FPT Corporation (FPT) rose an impressive VND10,000 and SJS went limit up.

Similarly, Vinh Son Hydropower (VSH) and Vinamilk (VNM) climbed by VND1,000, and PPC added VND500.

PetroVietnam Tourism and Service (PET) also ignored the overall sentiment and continued to shoot up, ending the session at VND82,500.

Analysts are describing the little excursion south as a "necessary correction" and say investors should not be deterred as higher prices are definitely on the way.