The UK-based Standard Chartered Bank plans to sell a 0.02 percent stake in the Asia Commercial Bank (ACB) as its ownership exceeded the cap set by Vietnam's central bank.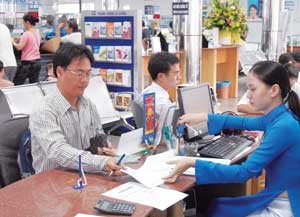 Customers in an ACB office (Photo: SGGP)
The central bank rules that each foreign investor can own a maximum stake of 15% in Vietnamese banks. Meanwhile, Standard Chartered now holds a 15.02 percent stake in Ho Chi Minh City-based ACB.
Standard Chartered will sell more than 133,000 of the almost 95.5 million shares it owns in ACB, according to a statement seen on the website of the Hanoi Securities Trading Center, where ACB is listed.  
The announcement says the sale is expected to finish by June 6.
On May 8, ACB shares closed at VND44.200 on the exchange, down 0.5%.