The stock market endured another disappointing day on Tuesday as the VN-Index fell 6.66 points to finish at 920.48 despite a flurry of interest and a spate of gambling in the smaller stocks.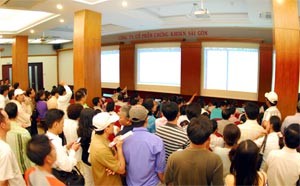 Investors watch the trading board at Sai Gon Securities Company (Photo: Viet Dung)
Blue chips continued to slide. Pha Lai Thermal Power (PPC) dropped VND1,500 to close at VND58,500, Petro Viet Nam Drilling and Well Services (PVD) fell VND3,000 to VND154,000, and Sacombank (STB) shed VND500 to end the day at VND54,500.
Similarly, Tan Tao Industrial Zone (ITA) declined VND2,000 to VND134,000, REE Technology (REE) dropped the same amount to VND133,000, and Saigon Cables & Telecommunications Materials (SAM) cast off VND1,000 to close at VND145,000.
Despite recording a VND900 billion profit for the first eight months, buy orders for STB have fallen by 30 percent since the start of September.
A few stocks had a better time of it. Ha Noi Maritime (MHC) maintained its allure for the third straight session, rising VND1,800 to close at VND39,400.
The shipping company's latest acquisition, a sizeable container vessel called the Ocean Asia, should be a real money earner and could have played a part in the record number of unmatched buy orders for more than 421,000 MHC shares today.
Some of the small caps performed well too. Khanh Hoi Import Export (KHC) rose VND1,300 to close at VND28,900, Khanh Hoa Power (KHP) climbed VND1,600 to VND35,100 and Petrolimex Joint Stock Tanker Company (PJT) went up VND2,500 to VND60,000.