Financial experts are worried about the increasing number of violations of stock trading as many brokerages are struggling to keep clients in a slumping market.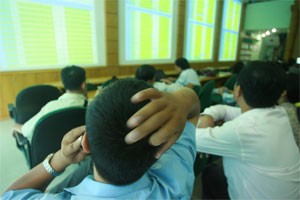 Investors watch share prices updated on a screen at a HCMC-based securities firm. Some brokerages were found to be in violations of securities trading last year (Photo:Minh Tri)
Fluctuations on the stock market in 2008 led securities firms to offer the financial leverage service, which provided short-time loans to their regular clients only.
In 2009, the service became more popular as brokerages put it under a tight supervisory, helping increase the liquidity of the stock market.
The bearish market last year saw some securities firms violate the regulations on securities trading in an effort to keep their clients. They authorized their clients to sell or borrow before the regulated T+4 trade settlement.
Nguyen Son, head of the Market Development Department, said after a periodic inspection, the State Securities Commission found some securities firms were allowing their customers to sell holdings earlier than the standard settlement time, which is against the Securities Law.
Some allowed investors to lend shares and offered "investment cooperation contracts" to mobilize capital from clients to invest in the stock market.
With the stock market gaining around 12 percent at the end of last year, investors have started borrowing against shares again to invest in the market, securities companies say.
A broker at a HCMC-based securities company said the number of customers borrowing against the shares they already own, was on the rise.
"Many investors have used up their stocks collateral for such loans," he said, adding the loan are capped at 40 percent of the value of the mortgaged securities. He also said his company grants these loans an interest rates of 15 percent.
However, investors eventually suffered heavy losses as the stock market kept slumping further.
In the fourth quarter of 2009, the stock market made correction, causing big losses to many investors using the financial leverage service. Others allowed to sell or buy shares before the T+4 trade settlement last year made the stock market ride on a choppy sea.  
Investors depositing money into brokerages are carrying high risks of losses as securities firms are not authorized to provide credit services.
"If investments in cooperation contracts are small, brokerages can easily pay the interest rate of 16 percent for each. But it is pretty risky when the investments are big, especially in the slumping market," said a financial expert.
The Circular 226, to take effect in April, will require securities and fund management companies to make monthly reports on their financial status to the State Securities Commission, which will enable different levels of inspection based on risks and even suspension of operations.