The VN-Index edged up 0.79 points to end the session at 921.19 on Wednesday.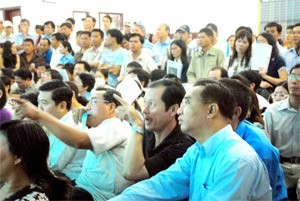 Investors at a securities firm in Ho Chi Minh City
An announcement today of paying dividends lifted Pha Lai Thermal Power (PPC) up by VND1,000 to close at VND59,500. Sacombank (STB) rose VND500 to finish at VND55,000 thanks to its good result.
Gains by other stocks played a part of the index's rise too.
Hau Giang Pharmacy (DHG) added VND8,000 to close at VND388,000, Tan Tao Industrial Zone (ITA) rose VND2,000 to VND136,000, Binh Minh Plastic (BMP) went up VND1,000 to VND179,000 and Ho Chi Minh City Infrastructure Investment (CII) put on VND1,500 to 63,000.
Among small caps, Ha Noi Maritime's (MHC) big buying for the fourth straight session earned the shipping company a rise of VND1,900 to close at VND41,300.
Similarly, Hang Xanh Auto (HAX) rose VND3,500 to VND79,500 and Viettronics Tan Binh (VTB) rose VND1,400 to VND46,500.
But the recently impressive moves of some small caps came to an end when there were a record number of unmatched sell orders for their shares at the Ho Chi Minh Stock Exchange today.
Lam Dong Minerals & Building Materials (LBM) shed VND2,500 to VND57,000, Petrolimex Joint Stock Tanker Company (PJT) fell VND3,000 to 57,000, Cavico Viet Nam Mining and Construction (MCV) dropped VND1,900 to VND37,400 and Sai Gon Beverages (TRI) cast off VND2,500 to VND52,500.