Sacombank (STB) was the only stock to rise limit up in a session that saw the VN-Index rise a bare 0.43 of a point to end at 935.17 on Wednesday.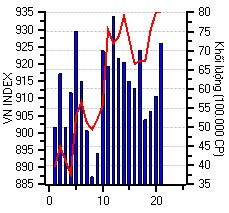 VN-Index chart for September 18 (Source: VSE)

STB has been slow to rally of late but today the stock climbed VND2,500 to close at VND59,000, with more than 1.98 million shares finding new owners.

Lighter gains were made by Kinh Do Food (KDC), REE Technology (REE) and Tan Tao Industrial Zone (ITA).

The news that the Viet Nam Oil and Gas Corporation had given PetroVietnam Tourism and Service (PET) eight hectares of land for an investment project spurred investors to bid PET up to VND61,000.

Hapaco (HAP) caught investors' eyes too but that was because of its low price. Bargain hunters placed orders for a whopping 240 million HAP shares but the company's shareholders were hanging on and only eight million changed hands.

The bad news is the growing number of declining stocks. Today's victims included Pha Lai Thermal Power (PPC), Ho Chi Minh City Infrastructure Investment (CII), Vinh Son Hydropower (VSH), Schenker-Gemadept Logistics (GMD), Song Da Urban & Industrial Zone Investment and Development (SJS), Viet Nam Petroleum Transport (VIP) and FPT Corporation (FPT).

Certainly the VN-Index is still rising, and 930 points seems to be more like support than resistance, but no major rally can be expected unless the market's fundamentals change for the better.

For now, small caps are considered a superior bet to the blue-chip stocks.