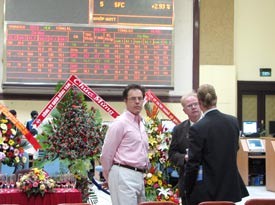 Foreign investors bought more STB shares in the first trading session of the stock. (Photo: T.C)
Sai Gon Commercial Joint-stock Bank (Sacombank) will be able to repurchase up to 30% of its currently floating shares to stabilize the price.
This move has been allowed by the State Bank of Viet Nam (SBV). Sacombank's shareholders have also agreed to use the reserve fund and retained earnings, roughly VND 500 billion, to finance the buyback.
Sacombank is the first bank to float, therefore, the stability of its stock price needs special attention. The buyback can be used to stabilize the price and minimize the recent bearish trend of the market.
In its second trading session on the stock exchange, STB share of Sacombank stayed at the ceiling price as 1.69 million of them changing hands, equivalent to VND 136.9 billion (US$ 8.56 million), accounting for 81.82% of the whole market's trading volume.
In 2 recent sessions at July 12-13, foreign investors bought in 1.3 million of STB shares, accounting for 60% of the bank share trading volume. This demonstrated the interest of this group of investors in bank shares.
The surging of the bank share from VND 78,000 to VND 81,500 caused the VN-Index to rise 7.07 points to 509.15  points at closing although 25 other stocks fell and only 6 others soared.
One of the reasons for the surging of STB is the positive performance of the bank revealed after flotation.
Sacombank's total assets reached VND 18,853 billion, increasing by 55.7% over the same period in 2005 and accounting for 97.6% of this year's plan. Its earnings after tax reached 206.5 billion, more than double over the same period last year, making up for 67.5% of the bank's 2006 plan.