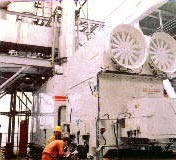 Machine maintenance to ensure safety for oil and gas' industry. (Photo: T.C)
The Viet Nam Oil and Gas Corporation (PetroVietnam) has decided to increase the Petro Vietnam Insurance Company's (PV Insurance) chartered capital to VND 500 billion. As planned, the subsidiary's chartered capital will be VND 500 billion in 2006 and will have reached VND 2000 billion from VND 1000 billion by the end of 2010.
PV Insurance is 100%-own subsidiary of PetroVietnam, operated since 1996 with the initial capital of VND 22 billion and later VND 59 billion. In four recent years, the average insured ratio was 27%. Earnings on operating capital reached 19%. In 2006, PV Insurance is expected to have the turnover of VND 1,000 billion and invest back to the economy thousands of billion dongs.