Mekong Housing Bank (MHB), one of Vietnam's remaining wholly state-owned lenders, is set to go public this month. However, financial experts are concerned that the initial public offering will likely to be quiet due to the government's tight monetary policy and bearish stock market this year.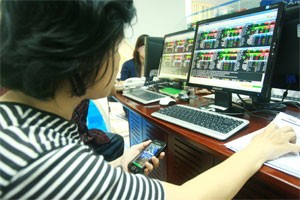 An investor watches share prices updated on a LCD screen at a HCMC-based brokerage. Financial experts worry that MHB IPO will likely to be quiet due to the bearish stock market and the government's tight monetary policy this year (Photo: Minh Tri)
The Ho Chi Minh City-based bank began to make preparation for the auction in 2003, having its operation audited by auditing giant Ernst & Young in International Accounting Standard.
In 2007, it also hired Deutsche Bank AG Singapore to be the IPO advisor and announced to go public on that year's October with the minimum starting price of VND60,000 per share.
MHB's leaders at that time said the IPO would be definitely carried out as scheduled since the bank had no bad debt and strong growth rate.
However, they eventually announced the auction would have to be halted as the stock market showed signs of slumping and the minimum starting price was too high compared to the average share price on the market.
Analysts said the suspension resulted in MHB's business slowdown compared to other banks, such as Vietcombank and Vietinbank.
Vietcombank and VietinBank are Vietnam's first two state-run lenders to have sold shares and listed on the Ho Chi Minh Stock Exchange. VietinBank has sold a 10 percent stake to the International Finance Corporation.
MHB's income relies on traditional banking services including lending and depositing, of which the services' sales reach 92 percent of the total revenue.
However, the bank keeps measly one percent of banking market share. Return-on-equity ratio (ROE) last year remained low, amounting to 4.5 percent.
After its equitization, MHB's registered capital increased to VND4.5 trillion (US$225 million) from VND3 trillion, which remains low compared to other lenders', financial experts noticed.
"Low capital left MHB's branches grappling to compete with other lenders'," said an economist. MHB has only around 40 branches and 220 offices nationwide.
Mekong Housing Bank announced that it achieved approval from the State Bank of Vietnam to carry out an IPO with the minimum starting price of VND11,000 per share. The HCMC-based lender did not say the time of the auction.
Mekong Housing Bank is set to sell 31.9 percent of its registered capital of VND4.5 trillion ($225 million).
The state will retain a 68.1 percent stake, while MHB can sell 14.34 percent in a domestic auction, 0.56 percent to its employees, 2 percent for the trade union, and 15 percent to a strategic partner, the central bank has said.
However, analysts remain pessimistic about the equitization plan as share price of many listed lenders are traded below VND9,000. "That is why Mekong Housing Bank hesitates to announce the date it goes public," said a broker from a HCMC-based securities firm.
Another state-run lender, the Bank for Investment and Development of Vietnam, or BIDV, said in March it plans to step up its privatization process. The plan has been on hold for several years.
The government has cut Vietnam's annual credit growth target to below 20 percent this year to curb inflation, from an initial target of 23 percent, after loans jumped 27.65 percent in 2010.
The Ho Chi Minh Stock Exchange's VN-Index has declined 10.9 percent this year on concerns that higher borrowing costs will crimp corporate earnings and economic growth.