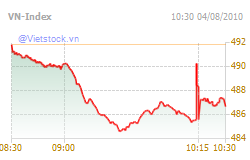 Movements of VN-Index on August 4. (Photo: vietstock.vn)

VN-Index experienced the steepest loss in the past four trading sessions on August 4 as investors dumped shares to lock in profits following small gains made the previous day.
The Vietnam's benchmark tumbled 1.06 percent, or 5.19 points, to finish at 486.71.
Among the index members, 43 stocks gained, 172 dropped, while 40 were unmoved.
Trading volume was at 41.5 million shares, worth VND1.2 trillion, as investors lacked the confidence to disburse.
Foreign investors were still drawn by blue-chips. They mostly bought stocks of BVH, CII, FPT, HAG, HPG, KBC and MPC.
Thanh Cong Textile Garment Investment Trading Joint Stock Company (TCM) won the position of most active stock by volume for the third consecutive day, with 1.31 million shares changing hands. The company announced on July 29 that it had signed a contract with the Singaporean company E-land Asia Holdings Pte., Ltd, one of its major shareholders, to borrow US$1 million to cover expenses involving the Thanh Cong Tower 1 project.
It was followed by Vinafco Joint Stock Corporation (VFC), which advanced 4.94 percent to VND17,000, with 1.1 million shares being traded.
From July 22 to 29, Vietnam Investments Fund I, L.P, a major shareholder of Vinafco Joint Stock Corporation (VFC), sold 400,000 shares to restructure its investment category, reducing its holdings at VFC to 1,379,016 shares.
DIC Investment and Trading Joint Stock Company (DIC) came in third, with more than 996,000 shares.
Big losers on the city bourse included PetroVietnam Finance Joint Stock Corporation (PVF), Saigon Telecommunication & Technologies Corporation (SGT), Son Ha International Corporation (SHI) and DESCON Construction Corporation (DCC). They all eroded the daily maximum allowed limit of 5 percent.
Alphanam Joint Stock Company (ALP) increased by 4.93 percent to VND21,300, from VND20,300 yesterday.
Vietnam Golf Tourism Joint Stock Company (VNG) added up 4.79 percent to VND17,500. Ho Chi Minh City branch of PetroVietnam Finance Joint Stock Corporation (PVF), a major shareholder of VNG, registered to sell 2,285,100 shares between July 29 and October 29, to restructure its investment category and liquidate investment trust contracts. Its current holdings were at 2,295,100 shares, accounting for 17.65 percent of VNG's registered capital.
Viet Nhat Seafood Corporation (VNH) traded at VND18,200, up 4.6 percent from yesterday.
Hanoi-based HNX-Index also plunged 1.74 percent, or 2.62 points, to 147.86. Around 31.2 million shares changed hands, valued at VND814 billion.
The UPCoM-Index also lost 1.72 points to 49.94. A total of 280,000 shares were traded at VND5.4 billion as of 11 am local time.