Investors with strong financial base have poured large amount into banking share since they expected investment in banks were safest and financial sector would rally soon.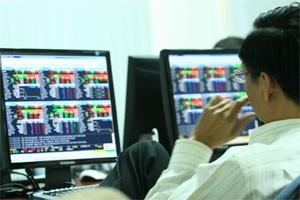 Many investors expect banking shares are the most profitable investment now (Photo:Minh Tri)
"If I have idle investments, I will definitely pump all into banking shares, instead of depositing in lenders. Nothing is as profitable as banking shares," said an investor in Ho Chi Minh City, who asked not to be named.
Brokers say investors with strong financial bases, who are former officials or directors of credit institutes, are eager to spend a lot of money for banking shares on both official and over-the-counter (OTC) markets.
Share price of most unlisted commercial banks, except of Military Bank and Techcombank, is lower than the face value of VND10,000.
"Those investors are willing to buy large volume of shares in unlisted lenders worth hundreds of billions of dong as they know the actual value of those shares," a broker in Ho Chi Minh City said.
Banks' shareholders expect banking share price will move up in the next six or 12 months. They notice that the price amounts to 30-40 percent of one two years ago and 5-10 percent five years ago.
"Banks have grown steadily for several years, thus their share price has plunged on anxious sentiment," said an investor.
A HCMC-based lender disclosed some investment funds regularly approached them several weeks ago to ask about its businesses. They also proposed to buy 3-4 percent stake in the bank.
The lender said it was set to pay cash dividend at the rate of 20 percent this year and offer bonus shares to existing shareholders to raise its registered capital.
Financial experts said some commercial banks begun to buy back their shares. "As share price is extremely cheap, they are eager to buy back to raise their stake in an effort to prevent acquisition," said an economist.
Upcoming IPOs
Mekong Housing Bank (MHB), one of Vietnam's five remaining wholly state-owned lenders, plans to raise at least VND710.6 billion (US$34.6 million) in its initial public offering next month, the country's main stock exchange said.
HCMC-based MHB is expected to auction nearly 64.6 million shares at a starting price of VND11,000 on July 20, the Ho Chi Minh Stock Exchange said in a statement.
The shares planned for the IPO represent 14.31 percent of MHB's registered capital of nearly VND4.52 trillion.
The state will retain a 68.1 percent stake, while MHB can sell 14.34 percent in a domestic auction, 0.56 percent to its employees, 2 percent for the trade union, and 15 percent to a strategic partner, the central bank has said.
Vietcombank and VietinBank are Vietnam's first two state-run lenders to have sold shares and listed on the Ho Chi Minh Stock Exchange.
VietinBank has sold a 10 percent stake to the International Finance Corporation.
Another state-run lender, the Bank for Investment and Development of Vietnam, or BIDV, said in March it plans to step up its privatization process. The plan has been on hold for several years.