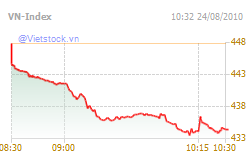 Movements of VN-Index on August 24. (Photo: vietstock.vn)

Vietnam's benchmark VN-Index sank to the lowest level in one year on August 24 as pessimism prompted investors to sell heavily to cut losses.
The index of 253 companies and five mutual funds listed on the Ho Chi Minh Stock Exchange eroded 13.5 points, or 3.01 percent, to close at 434.42 points.
Trading volume on the city bourse improved as low prices urged buying demand. Around 47.2 million shares changed hands at a value of VND1.61 trillion, the highest level in the past seven trading sessions.
On the index, there were only 9 stocks that advanced, 233 dropped, while 16 treaded water.
Saigon Thuong Tin Commercial Bank or Sacombank (STB), which saw 1.53 million shares changing hands, took the top position of most active share by volume.
Refrigeration Electrical Engineering Corporation (REE) came next with 1.45 million shares, chased after by Saigon Securities Inc. (SSI) with 1.36 million shares.
Quoc Cuong Gia Lai Joint Stock Company (QCG), which fell 32.5 percent to VND24,300, led the losers on the southern market. State Securities Commission of Vietnam allowed the company to issue 61,360,644 shares to raise its chartered capital to VND1.21 trillion from VND601.57 billion. A total of 60,157,495 shares would be sold to its current shareholders at a price of VND15,000 per share, and a ratio of 1:1. The remaining would be sold to its key officials at a price not less than VND20,000 per share.
Next were AgriBank Securities Joint Stock Coporation (AGR), Basa Joint Stock Company (BAS), and Southern Rubber Industry Joint Stock Company (CSM).
Among a few gainers, Thac Mo Hydro Power Joint Stock Company (TMP) shot up 4.72 percent to VND13,300.
Camau Trading Joint Stock Company (CMV) traded up 2.34 percent to VND35,000, heading for the seven-straight-trading-session of gains. The company will pay dividends for the second term of the year 2009 at a ratio of 19 percent. Moreover, it will advance dividends for the first term of this year by cash at a 10 percent ratio as of September 16. The company's net revenues and post-tax profits in the first six months reached more than VND1.72 trillion and VND14.73 billion, accounting for 61.6 percent and 54.54 percent of this year's goal respectively.
Ben Thanh Trading & Service Joint Stock Company (BTT) climbed 2.04 percent to VND35,000.
The smaller bourse in the north also stayed in red as the Hanoi-based HNX-Index contracted 4.69 points, or 3.63 percent, to 124.4. Trading volume was doubled that of the previous day, reaching 34.8 million shares, worth VND773 billion.
The UPCoM-Index adjusted 1.43 points to 46.44 points as of 11:15 am local time. The trading floor of unlisted shares saw 0.3 million shares changing hands at VND4.8 billion.