In the next five years, the capital invested for the development in Viet Nam is estimated at about US$140 billion. The development of the capital market, especially the stock markets attracted the attention of most organizations and experts who attended the conference held in Ha Noi on Monday, Jan 22.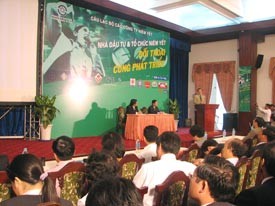 A conference about development of stock market in end of last year(Photo: TC)
This was a conference on finance and capital in Viet Nam with the attendance of more than 400 local and international experts, enterprises, financial organizations, funds such as: World Bank (WB), Deutsche Bank, Asian Development Bank (ADB), Bao Viet Financial Group, Petrol Vietnam Finance Company (PVFC), Bank for Investment and Development of Viet Nam (BIDV), Viet Nam Technological and Commercial Joint-stock Bank (Techcombank), Viet Nam International Joint-stock Bank (VIB Bank), etc.
Capital Mobilization from Stock Market
According to Mr. Omkar Shrestha, deputy director of ADB in Viet Nam, the country's government needs to have more policies encouraging small- and medium-sized enterprises, speeding up the equitization of state-owned companies in order to deal with difficulties in capital.
Deputy Minister of Finance Tran Xuan Ha said that the government and sponsors have come to an agreement in pushing up foreign direct investment (FDI), investment of domestic enterprises and indirect investment via the development of the stock markets.
"In the 2007-2010 period, the government has decided to equitize 71 groups, corporations of different fields to diversify the ownership forms, improve the effectiveness of spending their capital. These sources play important roles in the stock markets and capital mobilizing channels for enterprises", he said.
Evaluating the development of Viet Nam's capital market at this moment, director general of Techcombank Nguyen Duc Vinh, and director of PVFC Nguyen Xuan Son said that there was a switching of the capital flow from currency market (banking) into financial market (stock). This is a positive signal for the stable development of the economy.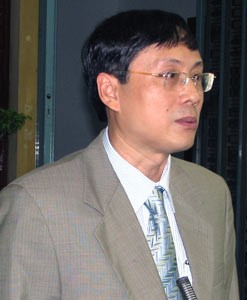 SSC chairman Vu Bang (Photo: TC)
According to chairman of State Securities Commission of Viet Nam (SSC) Vu Bang, Law on Securities prescribes the simplification of administrative procedures, avoiding sub-licenses such as foreign securities companies founding 100% foreign-owned branches in Viet Nam being provided with clear instructions for steps, procedures, trade license in accordance with operation license, and the document assessment time being reduced from 60 days to 30 days. There are clearer regulations on information announcements, stricter sanctions for illegal transactions, etc.
How much capital is needed for growth?
General director of BIDV Tran Bac Ha wonders, "I don't know how much of the capital source flowing in stock market is used for economics growth. Meanwhile, the annual one of credit organizations are identifiable."
General director of VIB Bank Han Ngoc Vu remarked that the capitalization proportion in the stock markets in comparison with Viet Nam's GDP, stated by SSC, is around 22%, showing that the investment capital sources are flowing strongly into the markets while Viet Nam does not have enough goods to meet the demand of the markets.
However, talking with correspondents of the Sai Gon Giai Phong newspaper about the problem that many stock investors are just speculating and that the capital is being transferred among investors, instead of being the capital sources for enterprises; Mr. Vu believes that it is not a positive point of the current stock markets.
So many people have invested in stock as a "gold hunt", without caring about the results because of its very high interest rates. That is the imperfect point of the market now, and it is hard to foretell when the imperfection will end.
Related Articles:
Stock Market Surges
2006: A Year of Change for HCMC Stock Market
Vice State President Visits Ho Chi Minh City's Securities Trading Center
First Try for New Investors