Vietnam's benchmark VN-Index, a gauge of 255 companies and five mutual funds listed on the Ho Chi Minh Stock Exchange, made correction on September 21 as an increase of 1 percent in the customer price index in September affected investors' psychology.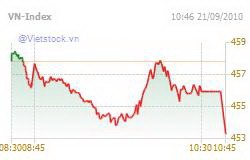 Movements of VN-Index on September 21. (Photo: vietstock.vn)
The index finished at 453.32 points, shrinking 4.55 points, or 0.99 percent.
However, liquidity on the city bourse maintained at high level as around 57.41 million shares traded at VND1.7 trillion.
On the benchmark, 56 stocks gained, 142 dropped, while 62 treaded water.
Ocean Group Joint Stock Company (OGC) and Quoc Cuong Gia Lai Joint Stock Company (QCG) were the two most remarkable stocks on the southern market today.
Trading volume of Ocean Group Joint Stock Company (OGC) spiked to a record of 14.3 million shares, accounting for 25 percent of total trading volume on the floor.
It was followed by Vietnam Export Import Commercial Joint Stock Bank (EIB), which saw 1.62 million shares being traded.
Meanwhile, furniture producer Quoc Cuong Gia Lai Joint Stock Company (QCG) advanced for the sixth day, surging 4.91 percent to VND29,900, with 1.33 million shares changing hands today.
MTGas Joint Stock Company (MTG) tumbled 30.1 percent to VND13,700. The company will issue 4 million bonus shares to its current shareholders with a ratio of 2:1. This is a part of the plan to issue 8 million shares to increase its capital to VND160 billion.
Godaco Seafood Joint Stock Company (AGD) slumped 4.85 percent to trade at VND31,400.
Ha Tien Transport Joint Stock Company (HTV) declined 4.84 percent to VND41,300.
Construction company Lilama 10 Joint Stock Company (L10) rebounded 4.84 percent VND39,000.
Meca Vneco Investment and Electricity Construction Joint Stock Company (VES) climbed for three consecutive days, closing up 4.76 percent to VND24,200.
The Hanoi's HNX-Index slipped 1.74 points, or 1.31 percent, to 131.57 points. Trading volume slightly fell over the previous day as nearly 40.4 million shares changed hands at VND1.01 trillion.
The UPCoM-Index clipped 0.59 points to 47.75 points. A total of 237,700 shares were traded at a value of VND4.77 billion as of lunchtime.